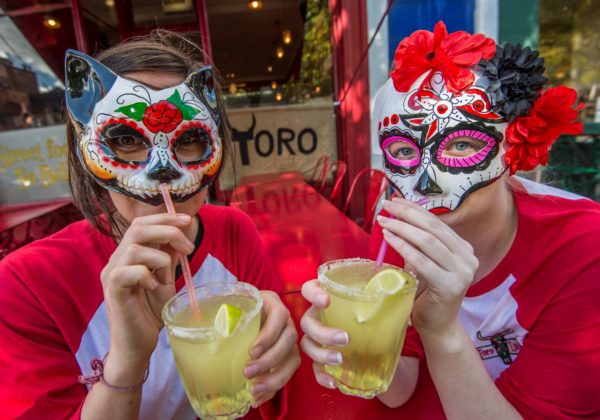 El Toro Loco, the Greater Grassmarket's newest Mexican restaurant, is bringing the traditional Mexican 'Day of the Dead' celebration to Edinburgh for Halloween on Saturday 31 October with a free, family drop-in event.
From 10 am – 5 pm, families are invited to drop-in to El Toro Loco, where they will enjoy complimentary Day of the Dead food and drink and have chance to paint their own 'Day of the Dead' face masks, or decorate edible skulls. The event will feature face painting and food specials such as Apple and Habernero Margarita 'mocktail', Champurrado (Mexican hot chocolate made with chilli) and Pan de Muerto – Bread of the Dead – traditionally made to look like a pile of bones!
Guests will be given a 'Dead Good Deal' meal voucher to take away offering two-for-one on burritos up to the end of November, and those who attend in fancy dress will be given a free meal-for-one voucher, worth £10.
El Toro Loco, aims to offer its customers a unique street-food dining experience with its fun, laid-back atmosphere and quirky 'create your own' menu consisting of burritos, tacos and quesadillas. Prices range from £4.50 – £6 for a main course and all food is made fresh each day.
Paul Duncan, owner of El Toro Loco, says: "We are really keen to mark this traditional, family Mexican celebration. Day of the Dead or Dia de Muertos is a fun and upbeat annual event which allows families to remember their loved ones who have died in a very positive and respectful way."
El Toro Loco's 'Day of the Dead' family event takes place on Saturday 31 October from 10 pm – 5 pm. Families are invited to drop-in anytime and enjoy complimentary traditional food and drink as well as children's activities.
Submitted by Stacey Dent
Photo Phil Wilkinson