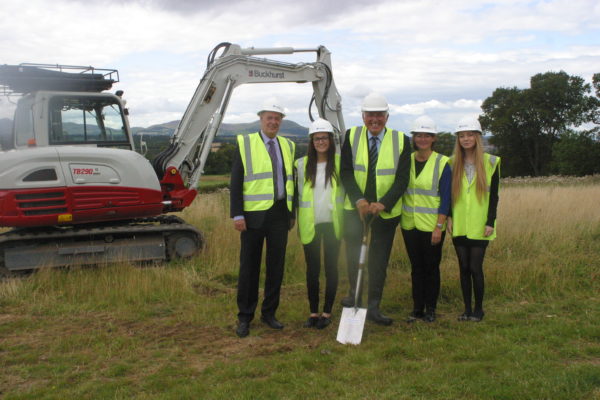 Having kept student and graduate training schemes in operation right through the recession and beyond, Hardies Property & Construction Consultants revealed the latest two young people to benefit from its student support scheme.
Kirsten O'Connor and Laura Falconer, both from Dalkeith, are being supported by Hardies whilst they study at Napier University to become a Building and Quantity Surveyor respectively.  Both could now gain vital work experience working on Hardies latest schools projects in Midlothian which will see new Primary Schools built at Gorebridge North and Bilston.
Says Hardies Managing Partner, Derek Ferrier: "We usually only take one student a year in our sponsorship and employment scheme but we couldn't decide between Laura and Kirsten, as they are both excellent candidates, and so we decided to take them both on."
"They are both local girls– both ex pupils of Newbattle High School – and it would be fantastic for them to get involved in the work to bring more new schools to this area. We have already helped to build new schools at Woodburn and Burnbrae," he said.
Mr Ferrier outlined that the girls will get Ł1000 a year to help them with their studies, plus they will be paid a 'living wage' rate to work with Hardies in its Dalkeith office when they are not at university, during the Christmas and summer holidays for exampl
When they graduate, Hardies will also guarantee each of them a full time post for two years.
Hardies, which has fourteen offices throughout Scotland and is the country's largest multi discipline surveying firm, has always put the support of young people in the industry at its heart. It also operates an approved RICS APC (Assessment of Professional Competence) programme which employs recent graduates and allocates them a supervisor, mentor and counsellor who supports them throughout their two year APC training period. Many graduates who originally came to Hardies through this scheme are still with the firm.
Derek Ferrier added: "Our support of student and graduates brings enormous benefit to the firm as a whole and we are quite clearly investing in the future of Hardies."
Laura Falconer said: "We are very grateful to Hardies. This scheme will give us a fantastic step up in the industry, making the years of study more than worthwhile."
Kirsten O'Connor spoke of her excitement of potentially working on the new school projects: "We can't wait to get started. Hardies are very active in this area and it will be the very best experience for us both."
Edinburgh based Hardies, which celebrated its 100th anniversary in 2013, serves clients in both the private and public sectors with a complete operation in property and construction development, including property valuation, building and quantity surveying and project management. The firm also handles the leasing and sale of commercial and industrial buildings; H&S Principal Designer, Dispute Resolution and the provision of Energy Performance Certificates. Altogether, Hardies employ over 100 members of staff, professionally qualified in various disciplines.
Further details at www.hardies.co.uk.