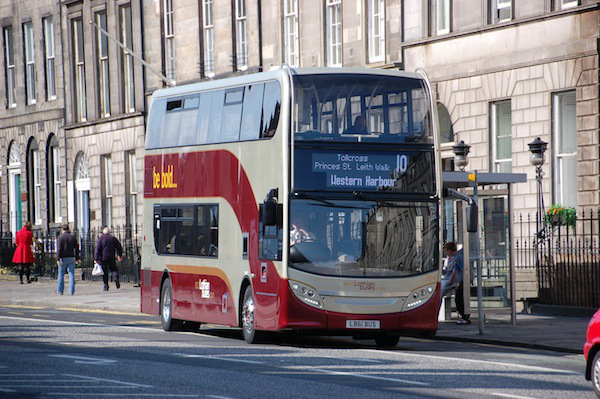 Living Street Edinburgh a campaigning group for pedestrians has demanded that the City of Edinburgh Council suspends works being carried out across the city to introduce new bus shelters pending investigation.
Some have seats that are far too high for passengers to sit on and others are impeding the path of pedestrians of all kinds. 
Councillor Jim Orr has lodged a question at this week's full council meeting about this matter.
His question asks:

"Concerns have recently been expressed (for example by Living Streets Edinburgh and the Southside Association) about a number of oversized or badly placed new bus shelters, with advertising panels now at right angles to the road. Some of these have resulted in excessive restrictions on the space available for people walking along the footway.
Have the worst examples, such as Buccleuch Street in the Southside, been installed in line with the new contract?

What action is planned to review and remediate these worst examples?

Under the contract, what is the minimum width of space which must be left on the footway for wheelchair users or pedestrians to pass?"
In a letter to CEC Transport Convenor, Cllr Lesley Hinds, Living Streets said:
"In random sampling in a few areas of the city we have identified a range of locations where the pavement space left for pedestrians does not met the minimum standard in The City of Edinburgh Council's Bus-Friendly Design Guide. which states that 'an unobstructed width of at least 1400mm must be provided along any length of footway adjacent to a shelter'".
The group's Convenor, David Spaven commented: "We've found some shocking examples where contractors installing new shelters have seriously failed to meet the Council's own standard that 'an unobstructed width of at least 1400mm must be provided along any length of footway adjacent to a shelter'.
"This is highly inconvenient for people on foot and in wheelchairs, and flies in the face of the Council's claim to be prioritizing the needs of pedestrians. The bus shelter programme is clearly flawed and we've called on Cllr Hinds to delay the implementation programme until CEC can be assured that implementation will be such as to meet the council's minimum standards and at the very least not make conditions worse for pedestrians at the bus stops."
Send us your photographs! What have you seen in your part of the city?
Add your photos, videos or bus stop tales to the EdinburghReportage storyboard here.