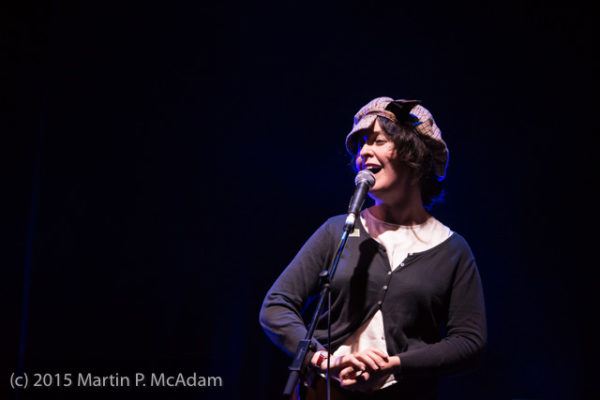 Joanna Neary's 2015 show 'Faceful of Issues' continues her tradition of basing her comedy shows around colourful characters. This year she becomes the delightfully twee Celia Jesson, the earthly embodiment of a repressed 1940s housewife. The genteel Celia finds herself in Edinburgh as the last remaining host of the Toxborough Village Hall Chat show. "It's only a silly little village Hall chat show, but we try to be modern and keep up."  And keep up she does; tackling modern issues such as Buzzfeed and the demise of Britpop in a sweetly optimistic manner that elicits belly laughs all round.
Not a natural performer, Celia rises to the challenge of showbiz with great gusto, acknowledging her small town limitations to great comic effect.  "I'm just an ordinary woman, I don't know anything about acting." she murmurs demurely. Her urban dance performance has audience members wiping away tears of laughter. Like an extra from a Miss Marple TV adaptation, she is delightfully jolly, holding up a comedy mirror to the white middle class audience, revealing the absurdity and small-mindedness of the white middle classes. The audience are absolutely with her, and Neary's experience of character performances is clearly in evidence. Every posture and facial expression portrays a masterful parody of the village housewife.
Neary is completely committed to the ladylike character of Celia, who has a whole back-story, who reveals details of her husband Fred, her fears about identity theft, and her friend's advice about how to use her Kindle Fire. Musical accompaniment is provided by Centre Parting Martin, who peppers the set with local adverts and is part of the world's best named tribute act.
Charmingly her closing comic song thanks the audience for attending, and she thoughtfully recaps the topics covered to ensure all have had the full educational benefit of their time in her company.
"I'm enjoying myself thoroughly" trills Celia at one point. I'm inclined to agree with her!
Joanna Neary "Faceful of Issues" Assembly Rooms  George Street Studio 2  19.45 until 30th August.