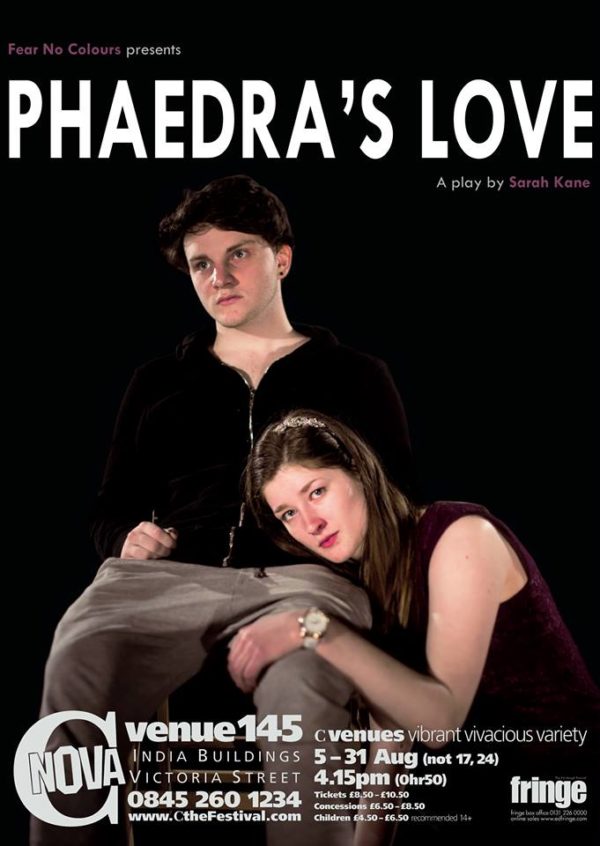 Young, recently formed theatre company Fear No Colours bring Sarah Kane's least-performed play, 'Phaedra's Love', to C Nova for the Edinburgh Festival Fringe.
Catastrophe strikes the nation as the Queen falls madly in love with her stepson
Sarah Kane's satirical take on the classic myth of Phaedra and Hippolytus. Greek tragedy is turned inside out, in surprisingly literal ways.
News. Another rape. Child murdered. War somewhere. A few thousand jobs gone. But none of this matters – because it's a royal birthday. When Queen Phaedra falls hopelessly in love with her stepson, catastrophe is inevitable. The young prince has no interest in anyone's affections, and his desire for absolute truth soon throws the nation's morals into irreparable turmoil.
Kane's retelling of Seneca's classic deals with the torture of depression and the pain of unrequited love in a darkly humorous bloodbath. After all, few things are funnier than a classic tragedy.
Using movement, video and a strong focus on the truths our skin can tell us, Fear No Colours dive headfirst into Kane's least performed play. This production of Phaedra's Love is high energy, darkly hilarious and gut-wrenchingly painful.
Fear No Colours is a newly established theatre company from Glasgow, Scotland, formed in February 2015. Formed by students and graduates of the University of Glasgow's theatre department, the company dedicate themselves to experiential and visceral performance with a keen focus on movement and contemporary drama. The company's debut piece, Cleansed by Sarah Kane, has previously been performed at the Gilmorehill Theatre in Glasgow and the Neues Schauspiel in Leipzig, Germany. Cleansed is also being performed at the 2015 Edinburgh Festival Fringe.
LISTINGS INFORMATION
Venue: C nova, venue 145, Edinburgh Festival Fringe Dates: 5-31 Aug (not 17, 24)
Time: 16:15(0h50)
Ticket prices: £8.50-£10.50 / concessions £6.50-£8.50 / children £4.50-£6.50
C venues box office: 0845 260 1234 / http://www.CtheFestival.com
Fringe box office: 0131 226 0000 / http://www.edfringe.com
Submitted by Fear No Colours Theatre