Laughing Horse Free Festival Edinburgh 2015: Cabaret (Music, Comedy)
Cat Loud's Big Night In
Written & performed by Catriona MacLeod
Musical arrangement & accompaniment by Finn Anderson
Listing Info – Edinburgh Festival Fringe 2015
Venue: Laughing Horse @ Moriarty's, Lothian Road
Date: 6th-30th August (Not Mon 17th) Time: 13:55 (45 minutes)
Aspiring diva Cat Loud makes the move from her childhood home on a Scottish island to the big city, seeking love, excitement and fame. Yet when nothing goes according to plan, she wonders if maybe she should just stay at home. Even a diva can get awfully lonely sometimes, and Cat could do with some company.
She likes you very much.
Fancy staying the night?
Cat Loud invites the audience to be her companions as she embarks on the ambitious and sometimes lonely journey of a country girl thrown into a world more complicated than she was expecting, where connection and comfort can be hard to find. Boasting swagger and tenderness with big pyjamas and bigger songs, Cat's Edinburgh Festival Fringe debut features classics from icons Shirley Bassey, Doris Day and Billie Holiday, with music from the likes of Queen, Ms Dynamite and Rihanna thrown in for good measure. It promises to be a sexy-ish or cosy-ish kind-of cabaret – Cat's not sure which one suits her best yet.
http://www.catloud.tumblr.com
Twitter @ThatCatLoud, #CatLoud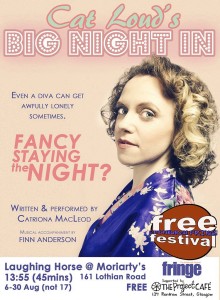 Submitted by Catriona MacLeod