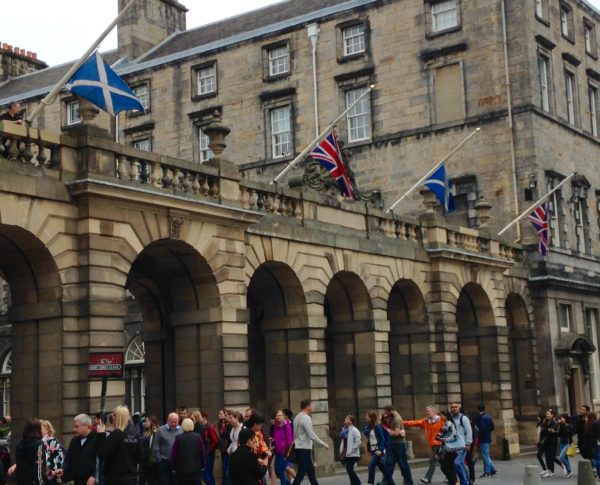 Flags at the City Chambers have been lowered to half-mast today in recognition of the terror attack in Tunisia on Friday.
The First Minister today chaired a further Scottish Government resilience (SGORR) meeting. Deputy First Minister John Swinney, Justice Secretary Michael Matheson and senior Police Scotland and Crown Office representatives discussed the ongoing response to the attack and support for Scots affected.
Flags at Scottish Government buildings have also been lowered as a mark of respect for all victims of the attack.
First Minister Nicola Sturgeon said:
"The Scottish Government, Police Scotland and our partners are doing everything possible to support those who may be affected by this horrific attack and their families.
"While we have not yet received official confirmation that any of the dead come from Scotland, it now seems certain that there will be Scottish victims.
"I understand and sympathise with the many people who are concerned for loved ones and want immediate answers. The victims and their families are foremost in our thoughts today and it's imperative that people in Sousse, and concerned friends and relatives in Scotland, have all of the advice, help and information they need.
"The situation in Sousse is highly complex due to the scale of the attack, the number of people killed and the fact that the victims come from different countries. I would ask people to be reassured that the UK Government, Scottish Government and all agencies involved are working as fast as possible to identify victims, keep families informed and help people travel back as quickly and safely as possible. Anyone with any concerns about the welfare of their friends and families should contact the official helpline on 0207 008 0000.
"Flags in Scottish Government buildings are currently flying at half-mast as a mark of respect to all of the victims of this horrendous attack on innocent people.
"The threat level for the UK remains at severe and counter terrorism measures are in place to respond to this. The advice from Police Scotland is to stay vigilant and alert."
The House of Commons has observed a minute's silence for the victims of the attack in Sousse earlier this afternoon.
The Prime Minister has made a statement to the house saying: "It is with great sadness that we now know of 18 British nationals who have died and the toll is likely to rise. We will have a minute's silence on Friday at 12 noon, one week on from the attack. A team of consular staff were on site in Sousse within hours. We now have over 50 people on the ground to help victims and their families. It is right that we do everything we can to bring home all those who have lost their lives just as quickly as possible.
"We are working with the tour operators to make sure that anyone who wants to come home can do so. Here in the UK the threat level remains severe, meaning that a terror attack is extremely likely."
The Lord Provost of Edinburgh Donald Wilson, said: "On behalf of everyone in Edinburgh, I would like to express my deepest condolences to those affected by the horrific and tragic events in Tunisia. All seven flags at the City Chambers have been lowered to half-mast as a mark of respect as our thoughts and prayers go out to the families and loved ones of the victims involved. We wish them strength."