The Art of the Classroom: an exhibition of work by pupils of Craigroyston Primary School. Paintings, models, pictures and drawings all reflecting the wide variety of study in the school. Opens tonight 6-7.30pm, then 10am-5pm Monday, 10am-7pm Tuesday, Wednesday and Friday, 1-5pm Thursday, North Edinburgh Arts, 15a Pennywell Court, Muirhouse.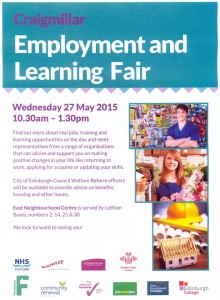 Craigmillar Employment and Learning Fair. Find out more about real jobs, training and learning opportunities and meet representatives from a range of organisations; several employers with live vacancies will attend. 10.30am-1.30pm (drop-in), East Neighbourhood Centre, 101 Niddrie Mains Road. Organised jointly by Craigmillar Library, Edinburgh College, DWP, Community Learning & Development, Third Sector and City of Edinburgh Council Employability & Skills Team.
Lunchtime Concert: Piano Speak with Will Pickvance. 12.15pm, St Giles' Cathedral, High Street. Free.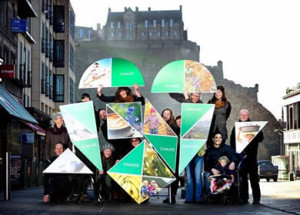 Stop Climate Chaos Scotland and Christian Aid Rally for the Climate. Crafts, music and live performers as thousands of messages from across the country are handed to the First Minister, requesting strong political ambition on climate, both at home and internationally. All supporters welcome. 12 noon-2pm, Scottish Parliament, Holyrood.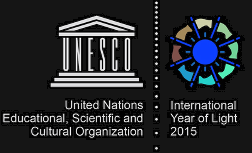 Evenings of Enlightenment: join University of Edinburgh researchers on Wednesday evenings in May and June to celebrate the 2015 International Year of Light. Experts from various disciplines will explore this fascinating area – from historical discoveries to today's cutting-edge research. Tonight Stefan Galander (Wellcome Trust Centre for Cell Biology) will talk on You Light Up My Life: – how organisms sense light and what they can do about it. 6.30-7.30pm, Red Lecture Theatre, Summerhall, 1 Summerhall. Tickets are free and may be booked via eventbrite here.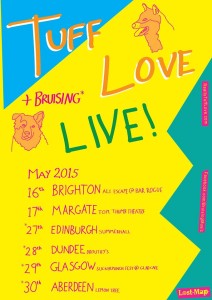 Nothing Ever Happens Here: Lost Map Records and Gold Flake Present Tuff Love. Hyper-infectious, fuzzed-up lo-fi pop from Glasgow-based Julie Eisenstein and Suse Bear, with support from Bruising and Alphabetical Order Orchestra. 'Perfect pop music' (BBC Radio Scotland). For over 18s only. 8pm-late, The Dissection Room, Summerhall, 1 Summerhall. Tickets cost £8 and may be booked online here or by calling the Box Office on 0131 560 1581.
Edinburgh Gay Men's Book Group: an inclusive group where you can meet new people and read and discuss interesting books. 7-9pm, LGBT Health & Wellbeing, 9 Howe Street. For more information please contact info@gaybookgroup.co.uk.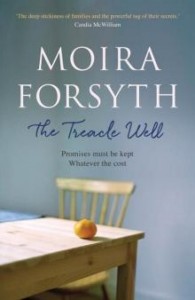 Blackwell's Edinburgh and Sandstone Press Present Moira Forsyth: The Treacle Well.  David and Caroline are twins for whom the rest of the world is always distant. After the death of their mother and their father's remarriage they are sent to separate boarding schools, then a dramatic accident when they are students divides them again. The repercussions last for years, as they cut themselves off from the relatives who raised them and the cousins who adore them. Underneath the stable family life their grandparents worked so hard to establish run currents of insecurity and restlessness, and a secret only one person is able to uncover. 6.30pm, Blackwell's, South Bridge. Free tickets may be obtained from Blackwell's front desk, by calling 0131 622 8218, emailing events.edinburgh@blackwell.co.uk or via eventbrite here.
LGBT Icebreakers: if you want to meet new people, are just coming out or don't feel confident going out on the 'scene', try this informal, fun and friendly social group for LGBT people and anyone questioning their sexuality or gender identity. For over 18s. 7.30-9.30pm, The Regent Bar, Montrose Terrace. For more information please contact Alison Wren on 0131 652 3283 or email alison@lgbthealth.org.uk.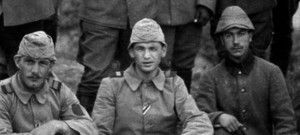 The First World War in Cinema: Gallipoli/Gelibolu (PG) (in English and Turkish with English subtitles). More than 120,000 soldiers lost their lives in the deadly Gallipoli campaign in 1915. To capture the human spirit of the campaign through the experience of the soldiers, this film tells the story simultaneously from both sides, focusing on the diaries and letters of two British, three New Zealand, three Australian and two Turkish soldiers, ordinary men forced by history to do extraordinary things. Director: Tolga Ornek. 6.10pm, 3.30pm, Filmhouse, Lothian Road.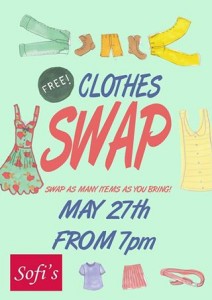 Tickets may be purchased by calling the Box Office on 0131 228 2688 or online here. The First World War in Cinema is a four-year series of films, programmed in association with the University of Edinburgh. Peter Weir's 1981 drama Gallipoli will screen in August 2015.
Sofi's Clothes Swap: bring as many items as you wish and leave with the same number – freshen up your summer wardrobe at no extra cost! 7pm onwards, Sofi's Bar, Henderson Street.