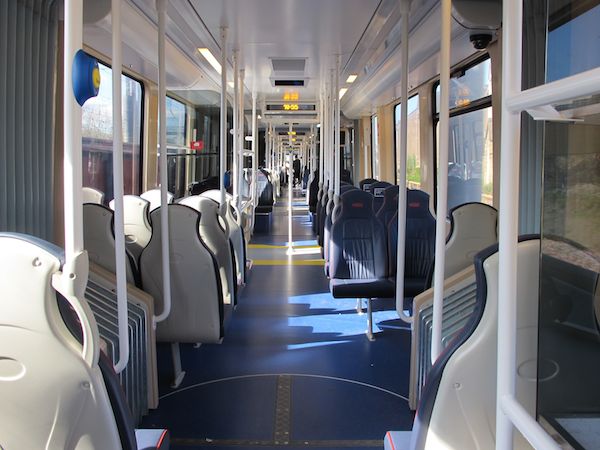 We are delighted that on the day that Pedal on Parliament takes place in Edinburgh, the news has come through that you will be able to take your bike on a tram in May when a test scheme will be run to see how it works out. Pedal on Parliament is taking their eight point manifesto on improvement to cycling infrastructure to Holyrood this afternoon.
It will be great to try out the plan and we look forward to trying it out. Yes there could well be difficulties if the tram is too busy with either foot passengers or cyclists, but the pilot is restricted to off-peak times to start with.
Both folded and unfolded pedal bikes will be allowed on during off peak hours as part of the trial which has been supported by The City of Edinburgh Council and city cycling groups.
Edinburgh Trams will take feedback from cyclists and other passengers during the trial.
Transport Convener, Councillor Lesley Hinds, said:
"We have listened to comments from relevant groups and individuals in setting up the off-peak trial, which was originally agreed before the trams were up and running.
"The trial will allow us to gauge cyclists' requirements, so I would encourage passengers to let us know what they think to help us to decide on a long-term approach to bikes on trams."
Tom Norris, Director and General Manager of Edinburgh Trams, said:
"Following a comprehensive safety assessment, and some helpful feedback from local cycle groups including Spokes and Pedal on Parliament, we've decided to move to the next stage by allowing passengers to bring their bikes on the trams throughout the month of May.
"We're confident that the trial, and the resulting feedback, will allow us to understand the impact that permitting bikes on our trams has on our passengers."
Ian Maxwell of Spokes, the Lothian Cycle Campaign, said:
"We are really pleased that Edinburgh Trams will be the first UK tram company to try allowing bikes during off-peak periods. We know that tram services in many other European countries allow this as a standard part of their operation.  Some cyclists will find this a very useful way of extending their journey and we hope that this trial will lead to a permanent arrangement."
The trial runs from Friday 1st May until Sunday 31st May. During the trial passengers can bring their bikes on board from until 07:30 in the morning and between 09:30 – 16:00 and 18:30- 23:00 Monday to Friday and all day Saturday and Sunday.
Trial details:
Cycles will not be allowed on trams during pre-publicised special events.
On board staff retain the discretion to prevent cyclists from boarding with bikes if they deem a tram to be too busy.
Passengers must stay with their bikes throughout the journey, holding them in order to ensure they don't move during transit.
Cyclists should position themselves at the centre section (marked on platform by a disabled logo tile) of the tram and take guidance from on-board staff.
Only two bikes will be allowed on each tram at any one time
Passengers with disabilities or those with prams or buggies are to take priority with regards to space.