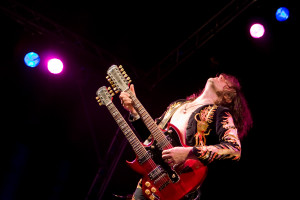 Boot-Led-Zeppelin, the ultimate tribute band will be appearing at the Liquid Room, 9C Victoria Street on Saturday 23rd May.
When Led Zeppelin performed a series of five concerts at London's Earls Court Arena 40 years ago in May 1975, they were at the very top of their game. Four decades on, these Earls Court performances are still held in the highest esteem.
For the 40th anniversary celebration of those five glorious nights, Boot Led Zeppelin are re-creating the magic by putting on a special show, their most spectacular to date.  So get ready to get lost once again in the full Earls Court '75 experience.
Boot-Led-Zeppelin are internationally recognised as the ultimate tribute to Led Zeppelin. The band tour most of the UK from theatres and festivals to the most legendary of music venues. International tours have included Austria, France, Switzerland, Kazakhstan, Malta, Portugal, Belarus and 3 highly successful Russian tours.
Clients have included Channel 5, Sky TV, Harley Davidson Owners Group, to mention just a few over their lengthy career. The band were asked to officially represent Led Zeppelin for the live finale on the BBC TV programme, "I'm in a Rock 'n Roll band", helping the nation to vote Led Zeppelin as the No.1 rock band of all time.
Boot-Led-Zeppelin capture the magic and excitement of Led Zeppelin's legendary concerts. Their close attention to detail, and sheer presence and energy on stage, ensure to take their audience on a journey back in time, delivering the ultimate Led Zeppelin experience.
Doors open 7pm – Tickets £16.75
Box Office 01312252564