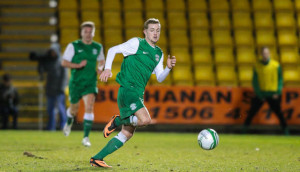 Hibs' midfielder Danny Handling (pictured)  is looking forward to Sunday's Scottish Cup quarter-final against a team that helped advance his career and prepare him for the first team
Handling joined Berwick Rangers on a two-month loan deal three years ago and proceeded to score seven goals in seven games.
Speaking ahead of the game to Hibs TV, Handling said: "I loved it at Berwick – the fans, the staff and the players were all really good to me there.
"It helped that Jordon (Forster) was already there on loan because that meant I settled in really quickly and I got off the mark with two goals.
"That got me started and I really enjoyed my time there – it got my confidence up.
"I would recommend going out on loan to any youth player because first team opportunities at Hibs can sometimes be limited.
"I think that going out on loan is the best way to learn. When I was at Berwick, I played against different teams in different places and it gives you an insight into what it's going to be like."
: "Our mindset will be the same as it is for any game really. We're doing really well just now – we're winning games and playing well.
"I think Saturday at Alloa was another example of what we're doing – we had to go and get a result and we did that.
"We can take that into Sunday because Berwick will come with fighting spirit and we will need to perform well in order to come out on top."
Photo by John Preece