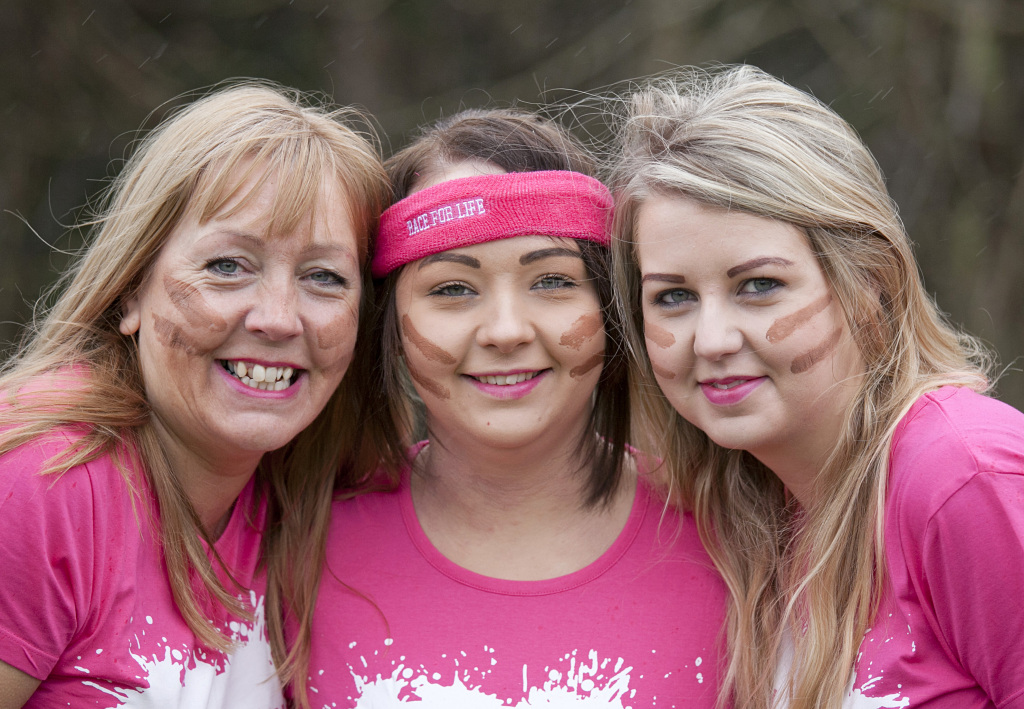 A brave teenager leading the charge against cancer is appealing for women to join her at Edinburgh's first Pretty Muddy Race. (Aimie is in the centre above with her mum Gillian on the left and her sister Claire on the right)
Aimie Caldwell who was just 16 when diagnosed with Hodgkin's Lymphoma has signed up for Cancer Research UK's new Race for Life Pretty Muddy event near Scotland's capital, which takes place at Dalkeith Country Park on Saturday June 13. She's teamed up with her mum Gillian, 47, and her sister Claire, 22, to raise money for life-saving research by taking on the women only, non competitive 5K obstacle course-with added mud. Participants are encouraged to run, climb, and clamber over a series of jumps and slides- all to help beat cancer sooner.
Aimie of Livingston said: "Until I was told I had cancer, I thought it was just something that affected older people.
"Now I know differently. It can happen to anyone and the only way we can help families- families like mine- is by trying to find new treatments and cures. I'm lucky, the kind of cancer I was diagnosed with is very treatable. Not everyone is so lucky. The work that Cancer Research UK does is so important and I'm really proud to help launch Edinburgh's first Pretty Muddy event. It will be great to raise money while doing something fun."
Aimie, now 18, is today cancer free thanks to the world class medical team at Edinburgh's Royal Hospital for Sick Children. But she vividly recalls first noticing a lump on her neck in October 2012. She endured 12 weeks of chemotherapy as well as three weeks of daily radiotherapy sessions after doctors diagnosed cancer. Chemotherapy meant Aimie's hair fell out in clumps, so her mum Gillian, a hairdresser, stepped in to cut off Aimie's long blonde hair.
Aimie said: "I know that was difficult for my mum but it was a comfort to me that she could do it.
"Mum said that she'd done it for a few clients before but never in a  million years dreamt she would be doing it for her own daughter."
But Aimie who had just started a photography course at West Lothian college decided to stand up to the illness in the only way she knew, by picking up her camera and documenting her journey.
Aimie said: "We'd been given a reportage project to do at college.
"Our tutor said the images had to tell a story and this was the only story going on in my life. It was the natural thing to do. It became quite therapeutic in a way. It was good to have something to focus on."
On July 30 2013, Aimie got the news she'd been hoping for- the treatment had worked and the cancer was gone. Now she gets check ups every six weeks but is healthy, enjoying life with her boyfriend Kyle McBain, 21, and has started a full time job with financial firm Aegon.
Every hour, around three people are diagnosed with cancer in Scotland and the number of people being diagnosed with cancer has now reached around 30,200 cases each year.  Everyone is special, everyone is somebody's mum, dad, brother, sister, friend or colleague. And that's why Cancer Research UK is calling on women of all ages, shapes and sizes to fight back against this devastating disease by entering one of 13 Race for Life events across Scotland.
Simon Burley, Cancer Research UK's Pretty Muddy Edinburgh events manager said: "We're so excited about launching Race for Life Pretty Muddy in Edinburgh.
"We've no doubt that ladies across the city have the fighting spirit to get down and dirty to beat cancer sooner. Pretty Muddy promises all the fun and camaraderie of our much loved 5K and 10K events- just with an extra serving of mud. Race for Life events are not competitive. They are not about being fit or fast. Women can complete the Pretty Muddy course at their own pace, climbing, jumping, walking and laughing their way around. It's about an army of women coming together in the fight against cancer.With fire in their bellies and trainers at the ready, we know that Edinburgh ladies are up for the challenge."
Last year, almost 46,000 women took part in Race for Life in Scotland and raised a fantastic £2.9 million. This year organisers are appealing for even more women and girls to stride out to beat cancer sooner with Scotland's first Race for Life 5K of this year kicking off in Glasgow on May 10 closely followed by events across the country, everywhere from Edinburgh to Dundee, Inverness to Irvine.
Cancer Research UK's Race for Life, in partnership with Tesco and official energy sponsor Scottish Power, is an inspiring women-only series of 5k, 10k and Pretty Muddy events which raise millions of pounds every year to help beat cancer sooner by funding life-saving research. Money raised through Race for Life allows Cancer Research UK's doctors, nurses and scientists to advance research which is helping to save the lives of men, women and children across Scotland.
Cancer survival rates have doubled since the 1970s and Cancer Research UK's work has been at the heart of that progress. But more funds and more supporters are needed to bring forward the day when all cancers are cured. Cancer Research UK spends around £34 million a year in Scotland.
To enter Race for Life today go to raceforlife.org or call 0300 123 0770.