On the occasions when we get away from Edinburgh, we like to really get away. Now that the whole of the US has become reachable in only a couple of hops from Edinburgh Airport it is all the more accessible.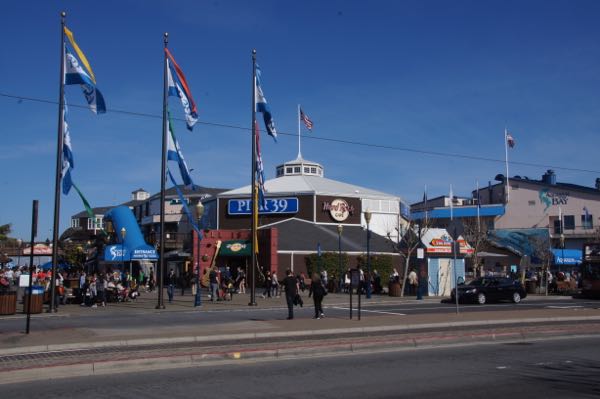 On a recent visit to California we were invited to have lunch at the Hard Rock Cafe San Francisco to see how it serves up its local Legendary Burger. In Edinburgh we all know the tasty burgers they serve up on George Street, but the Hard Rock chain is good at making all of its restaurants just a little bit different from each other.
Hard Rock Cafe San Francisco is located at Fisherman's Wharf which is in the heart of the tourist trail. It is a lively restaurant with an outdoor seating area where we sat on the outside deck to soak up the February sunshine.
The Burger by the Bay was served on bread not a bun which was a little surprising but very tasty! It was topped with smoked bacon, cheddar cheese, golden fried onion ring, crisp lettuce and vine ripened tomato.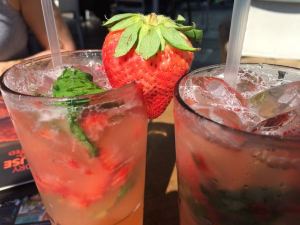 As an alternative we tried the pulled pork sandwich (served on a bun!). The smoked pork was adorned lovingly with BBQ sauce and yes was a good alternative to the burger along with the seasoned fries. We were just too full at lunch to try any of the desserts but they looked pretty good on the menu.
What we did have to start was a non-alcoholic cocktail (it was lunchtime!) and their Strawberry Basil Lemonade was truly a refreshing find. Decorated with a huge strawberry on the side of the glass with a refill on offer as soon as we drained our glasses.
Our Steller report shows off the rock n roll surroundings (and the sunshine!):
Our waiter Anthony was knowledgable about the menu, helpful with making choices, and attentive without being overbearing. We had fun and a delicious lunch and hope that you might too if you get the chance to visit California.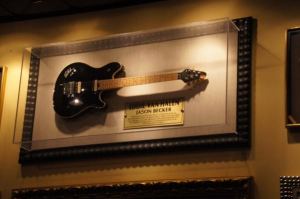 The Hard Rock Cafe has in San Francisco for 10 years although previously there was a Hard Rock at a location on Van Ness which is uptown from the Embarcadero. It is about to have a facelift and Sales and Marketing Assistant, Susan Brittle explained that it will be developed on a Sixties theme which they are very excited about.
She said: "We will have chandeliers made from guitar picks and a crushed velvet lounge. We have a lot of Summer of Love memorabilia with artefacts from Janis Joplin and the Grateful Dead who are of course a local band. San Francisco is really like the New York of the West Coast.  The city has a busyness to it and a lot of people who live here have very open minds. But the weather is much better than in New York!"
What you really go to the Hard Rock chain for is to see the wonderful rock 'n roll memorabilia on the walls. At Pier 39 they have everything from Eddie Van Halen's guitar to the BB King electric guitar and the Beatles Derby Hat signed by the Fab Four themselves.
Susan also explained that people travel the world finding T-shirts and other merchandise from all the different cafes, some of which is sold to support charities.
Proceeds from the sale of Hard Rock's Imagine Dragons Signature Series T-shirt and pin benefit the Tyler Robinson Foundation (TRF), an organisation established by the band in 2013 to help families handle unexpected financial costs of paediatric cancer.
The good thing is that from Pier 39 it is a short walk back to a bus stop where you can use a Clipper card to get on a bus or a tram back to the city centre. The Clipper card works a lot like an Oyster card and you will be charged a fare of $2.25 on a single MUNI bus journey or a little more on a BART journey which takes you further afield and out to San Francisco International Airport.
Hard Rock were very accommodating and treated us to lunch after which we were given a lovely gift basket on leaving with shot glasses and t-shirts. Our lunch would have cost around $50 with a tip.