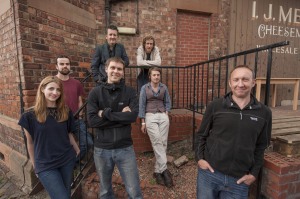 The amazing folk/bluegrass 7 piece band Southern Tenant Folk Union are playing at the Scottish Storytelling Centre on Saturday 17 January (8pm £12) Tel. 0131 556 9579
January 2015 sees the release of the band's sixth album 'The Chuck Norris Project', their most ambitious album to date. Conceptually the tracks are all named after different movies from the actor's career (though have nothing to do with the plots and contain no reference to car chases, explosions or karate chops) with each song taking the title as a starting point to discuss political ideas. Band leader Pat McGarvey came upon the idea in autumn 2012 during the last US presidential election when Mr Norris and his wife released a campaign video urging voters to come out for Mitt Romney saying that a vote for Obama would lead to "a thousand years of darkness", a statement he felt unhelpful to the debate. Musically eclectic the album remains an all-acoustic affair but takes in influences like 70's disco, folk and soundtrack music mixing elements of composers like John Carpenter, Gene Clark and Fabio Frizzi. The album also features guest vocals from cult Americana songwriter Mike Ferrio (from the bands Tandy & Good Luck Mountain).
With this idea McGarvey and the band began to write and demo material to see if it would work not only as a concept but also as something musically interesting. Subsequently most of the album was written during 2013 but delays to recording meant the sessions didn't take place until summer 2014. Featuring an expanded sound with orchestrated fiddle, clarinet and cello on top of the band's regular 5 string banjo, double bass, cajon, mandolin and acoustic guitars the songs each explore different subjects that expand upon the original movie title in unexpected ways. Also influential was the work of 70's soul composer/arrangers such as Isaac Hayes, J.J. Johnson and Barry White on songs like the epic Martial Law or the relentless folk disco of Walker, both tracks using those big soundtrack stylings to emphasise and reflect the emotion of the lyrical content.
The subjects of the songs are diverse but have subtle and common threads linking them outside of the framing device. A few songs touch on the gun laws in USA and their consequences, one being the continuing horror of school shootings (in Slaughter In San Francisco) written from the point of view of a young girl trapped in time beneath her desk. Equality is another thread linking the songs with zero hour contracts and the need to organise labour the basis for the song Delta Force (referencing Aldous Huxley's Brave New World caste system) and the forces ranged against it in The Octagon. And even as the songs discuss issues of social conscience it's always done with beauty, space and clarity. Leading each piece of music are the compelling vocals from Rory Butler, a voice powerful and fragile, soulful and honest. He is accompanied by the thrilling dexterity of Adam Bulley on Mandolin and the innovative fiddle playing of Katherine Stewart who manages to effortlessly combine elements of her backgrounds in Scottish traditional music and classical training into a sometimes beautiful and often disturbing sound.
Other tracks on the album include a dissonant string based riff on a possibly future homosexual or female occupant of the White House where it's just business as usual (The President's Man) and appropriately for a band named for a union they present in Expendable Too a scenario where workers decide to reverse the norm and outsource their Managing Director's job.
Once again recording and mixing, on his fourth consecutive album with the band, is Lau sound engineer Tim Matthew. Tim's expertise in sound techniques has produced this most fully realised album where each song's tone reflects the subject matter. It contains atmosphere and subtlety but when a groove needs to be hard the full force of the big acoustic band sound is deployed. Album artwork comes again from Irish designer Jonathan McClean and this time he's devised a set of bold, eye catching and memorable images reminiscent of 70's action movie posters.
The band have once again taken another leap in sound, structure and tone as they marry social conscience and comment on the world around them with songs, melodies and performances that engage. This album has achieved what it set out to and now on release STFU invite all to listen for themselves, although maybe it would be for the best if Chuck Norris never got to hear it.
An essay with more detailed information about the concept and thinking behind the album can be found on the STFU website
The Chuck Norris Electronic Project album, a synth based spin-off album by The Southern Tenant, will be released later in 2015