Can't Dance Cameron: Emily Dodd introduces her new book, the tale (or tail?) of a capercaillie bird who doesn't think he can dance. Emily is a former Reader-In-Residence at the library. For ages 4-7. 1-2pm, Leith Library, 28-30 Ferry Road. For more information and to book your place, call the library on 0131 529 5517 or email leith.library@edinburgh.gov.uk.
Santa arrives in Linlithgow! He'll be at the Linlithgow Canal Basin this afternoon, with an age-appropriate gift for every child followed by a free boat trip for all the family. The tea room will be serving non-alcoholic hot punch, mince pies and cakes beside a log fire. 2-4pm, Linlithgow Canal Basin. £5 per child. Also at same times on Sunday 14th, Saturday 20th and Sunday 21st December 2014. The Linlithgow Union Canal Society is a charity set up to promote the use and restoration of the Union Canal; everything is run by volunteers – new members welcome!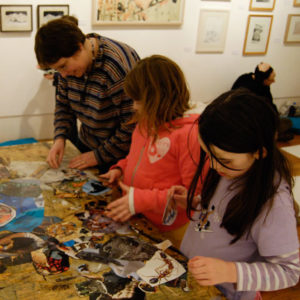 Edinburgh Printmakers: Making Do – Upcycling Workshop. Explore the theme of 'making do' through story and art with upcycled materials. Storyteller and artist Owen Pilgrim uses stories and myth to see how themes are relevant to us today, to observe how we live and how tradition creates culture; he helps children to connect to the natural environment through story and nature-based activities. For ages 7+. 1.30-4pm, Edinburgh Printmakers, 23 Union Street. Tickets cost £5 per person and can be booked via eventbrite or by calling 0131 557 2479.
Saint Lucia Swedish Carol Singing: a celebration of St Lucia guaranteed to get you into the Christmas spirit. 7pm – Sofi's Bar, 65 Henderson Street, 7.30pm – Boda's Bar, 229 Leith Walk, 8pm – Victoria, 265 Leith Walk, 8.30pm – Joseph Pearce's, 23 Elm Row, 9pm – Hemma, 75 Holyrood Road.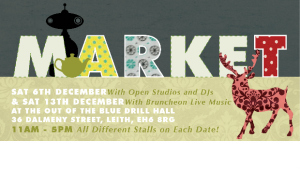 Out of the Blue Christmas Market with Bruncheon: lots of stalls with everything from jewellery and art to willow baskets, jam, furniture, lamps, knitwear, textiles and vintage, plus live music from the Drill Hall's monthly Bruncheon event – performances from local musicians will provide the perfect accompaniment to your festive shopping. 11am-5pm, Out of the Blue Drill Hall, 36 Dalmeny Street. £1 entry.
Music Among The Trees: talented pianist Drew Crichton entertains visitors to the Edinburgh Christmas Tree Festival. All welcome, come and go as you please.  12 noon-1pm, The Sanctuary, St Andrew's and St George's West Church, 13 George Street. Free.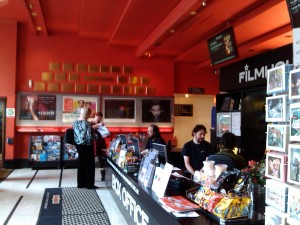 All Together Now? A Disability History Month Scotland event. The launch of a locally made animation, using the words of impaired people today to describe the changes in society and the emergence of rights for disabled people from the beginning of World War One, plus two more short, grassroots, social commentary films from ELREC and Camcord Guerillas.  The screenings will be followed by a Q & A session to discuss the making of the animation with Muckle Hen, history and activism in Scotland today. 1pm, Filmhouse, Lothian Road. Free tickets can be obtained from Disability History Scotland at admin@disabilityhistoryscotland.org. Funded by HLF.
Music Among The Trees: Recorder Group. A group of talented recorder players brings harmony and variety to entertain visitors to the Edinburgh Christmas Tree Festival. All welcome, come and go as you please.  2-3pm, The Sanctuary, St Andrew's and St George's West Church, 13 George Street. Free.

Cowgate Pop-Up Market: Cowgate's venues open their doors for a new event quite unlike their usual offerings, bringing together Edinburgh's creative community and showcasing places that you may not otherwise think to visit. Arts and crafts, clothing, vintage, music and food market. 1-5pm, various venues including The Bongo Club and Sneaky Pete's, Cowgate – for more information see event's Facebook page.
Limited Edition: a showcase of Edinburgh College of Art 3rd Year Jewellery Students' work. 10am-5pm, Learning Centre, Level 2, National Museum of Scotland. Also open at same times on Sunday 14th December 2014.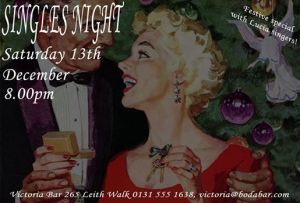 Sofi's Singles Night: a festive special with Lucia Singers! 8pm, Sofi's Bar, 65 Henderson Street
Institut Francais/French Institute Open House: explore the Institute's activities, discover all the brand new courses on offer for winter, meet the teachers and attend a mini-course to give you a taster for next term. Children can enjoy a free French session with tales, songs and games while parents treat themselves with a cafe and croissant. The Institut Francais encourages cross-cultural exchange and offers French courses, talks, live music and theatre performances, film screenings, library collections, children's activities and festivals. 10am-3pm, Institut Francais d'Ecosse, 13 Randolph Crescent.
Nature's Festive Wonders: create beautiful botanical-themed festive decorations using natural and  recycled materials. For all ages. 12.30-3.30pm, Real Life Science Studio, John Hope Gateway, Royal Botanic Garden, Inverleith Row. Free: no booking required.  Also at same times on Sunday 14th December 2014.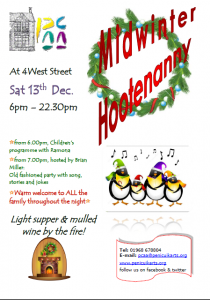 Penicuik Community Arts Hootenanny: Christmas Party with Penicuik Folk Club. Programme for children and the young at heart begins at 6pm with Ramona; adult party from 7.30pm, with musical turns, poetry readings and jokes, all from the floor. Children are welcome to stay on and join in with the adults. A light supper and mulled wine will be provided. 6-10.30pm, Penicuik Community Arts, 2-4 West Street, Penicuik. Free and unticketed – 'a warm welcome to all the family throughout the night'.
GENERATION Tours at Modern One: free, discussion-led tours of the exhibition, focusing on key themes and artists. 11-11.45am or 1-1.45pm, Scottish National Gallery of Modern Art ONE, Belford Road. Free and unticketed.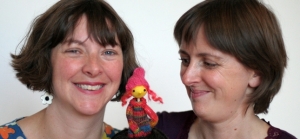 The Story Kist: Inclusive Storytelling. Cosy, snowy winter tales with storytellers Ailie Findlay and Marie Louise Cochrane.  Woolly socks and woolly puppets…come and enjoy some multi-sensory stories with props and games and lots of joining in. Plenty of fun for everyone, but especially for children with additional needs, their families, friends and carers. 11am, Scottish Storytelling Centre, 43-45 High Street. Tickets cost £5 per child and can be booked online here or by calling the box office on 0131 556 9579. Please remember to book a free adult ticket too.
Deck The Halls! If you are stumped for gift ideas, let NGS inspire you – and make your own unique festive decorations under the giant Christmas tree! 2-4pm, Scottish National Portrait Gallery, 1 Queen Street. Free: drop-in.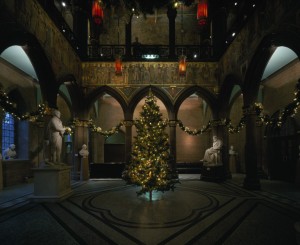 St Mary's Music School: a young string quintet of musicians from the school, who have for the last year been working together as a chamber group, will perform one of the greatest works of all chamber music, Franz Schubert's String Quintet in C Minor. 12 noon-1pm,  Scottish National Portrait Gallery, 1 Queen Street. Free.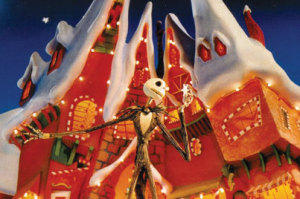 Culture Shock Christmas! Seasonal films from the Cameo – today The Nightmare Before Christmas (PG) The King of Halloween Town discovers the delights of Christmas, but his ghoulish subjects can't quite get the holiday right. 'A magical non-stop animation' based on a Tim Burton story. 2.45pm, Cameo, 38 Home Street, Tolcross. Book online here or call box office on 0871 902 5723.
Winter Guided Walk: join a garden guide for a leisurely afternoon walk around the Botanic Garden. Discover stunning seasonal highlights and learn about the history of the garden and its plants. For ages 14+. 2pm, meet at John Hope Gateway, Royal Botanic Garden, Inverleith Row. £5 per person, no advance booking required. Also at same time on Sunday 14th December 2014.
NMS Christmas Crafternoon 2: come and make a lovely Christmas decoration inspired by the National Museum's collections. 12 noon-4pm (drop-in), National Museum of Scotland, Chambers Street. Free. Also at same times on Sunday 14th December 2014.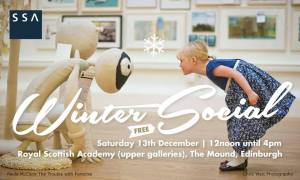 Scottish Society of Artists Winter Social. Get Christmassy, get creative – take a break from the Christmas shopping and join the SSA, friends and families for a festive celebration of the 117th annual show. All ages are invited to participate in a range of activities devised and delivered by featured artists and collaborators, exploring aspects of the exhibition, artwork and themes with a seasonal slant. Create beautiful paper chains and deck the halls with Christmas garlands. Music, poetry, pop-up tours, interventions and more. 12 noon-4pm, Royal Scottish Academy, Scottish National Gallery, The Mound.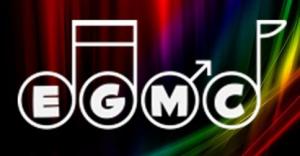 LGBT Winter Concert: an annual festive favourite, celebrating local LGBT talent and community spirit. Live music, spoken word and poetry from Edinburgh Gay Men's Chorus, Loud and Proud Choir (tbc) and Shaz, Jules and Pawel, with a special performance from Jo Clifford and other guests. A family friendly event with seasonal treats for all – toast the old and new years! 3-5pm, St Mark's Unitarian Church, 7  Castle Terrace (venue is wheelchair accessible). £5/£2.50 (unwaged): booking essential – and book early as this is a popular event and seating is limited – online here or by contacting Jules on 0131 523 1100 or jules@lgbthealth.org.uk.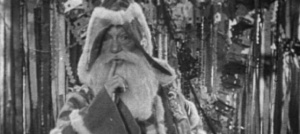 A Very Scottish Christmas (PG): professional Christmas researcher Dr Clause needs help to understand Christmas customs in Scotland.  She's found some films that demonstrate a number of interesting activities – can you help her investigate the Christmas traditions and write a letter for her to take back to S.A.N.T.A? A fun family event created by the Scottish Screen Archive and theatre-maker Geraldine Heaney. For ages 7+. Bring your favourite toy to this special, Christmas-themed event, which will include colour and black and white film footage from the 1930s to the 1960s. 1.30-2.35pm, Filmhouse, Lothian Road. £3.50 per person: book via website or call box office on 0131 228 2688.
Scots Music Group Ceilidh with the Robert Fish Band: 7.30pm-midnight, St Bride's Centre, 10 Orwell Terrace. Licensed bar – no BYOB; water available at no charge. Tickets £10/£8 on the door or £8/£6 in advance, either from the St Bride's Centre on 0131 346 1405 (or in person) or direct from the Scots Music Group on 0131 555 7668.
Boda's Christmas Craft Fair: a chance to view some excellent local crafts and a great opportunity to purchase some unique Christmas presents. Mulled wine and cider available throughout the day. 1-4pm, Boda's Bar, 229 Leith Walk. Free entry.