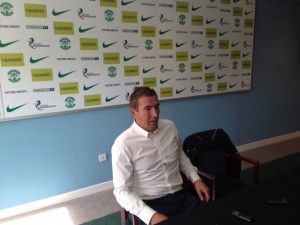 Hibs' Head Coach Alan Stubbs was delighted with the patience shown by his players durng yesterday's 2-0 home win over Alloa Athletic at Easter Road.
The win keeps Hibs in the play off places, two points ahead of Falkirk and three behind Queen of the South who beat Rangers on Friday night.
After the game Stubbs told Hibs' TV: "Patience is always the key – I've been told that a lot of times.
"From the first whistle to the end I thought we controlled the game, it was always going to be about when we created opportunities we make the game as comfortable as possible.
"Scoring the first always helps and I said to the lads at half time that it was very difficult to break down 4-5-1.
"No matter if you're playing at the top of the Premiership or the bottom of the Football League; it doesn't make any difference because it's a difficult system to break down.
"I thought we were patient and when we got the opportunities we took two of them and that's the most important thing.
"We've been criticised for not winning games that we've controlled earlier on in the season and I think today we've controlled the game and won it also, so I'm very happy.
"It's was important to bounce back from the result last weekend and we all knew that, I said last week as soon as we finished that I wasn't happy with what happened.
"But one run finished and another one starts this week hopefully and they've done the first part of what I asked them to.
"Hopefully this is the catalyst to address our home form – we haven't played badly at home we just haven't gotten the results that we should have gotten.
"There's a big difference between the two I'd be more worried if we weren't playing well and drew, but I felt in a lot of our home games we've controlled them but we've just not seen it across the line."