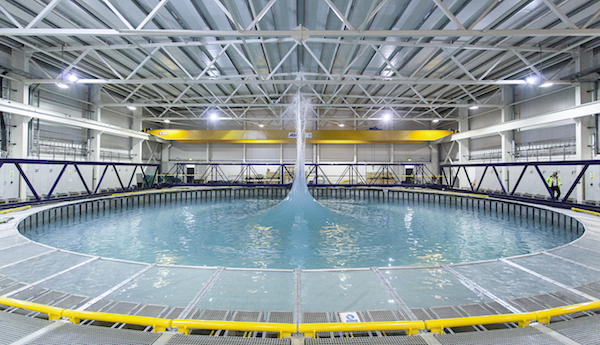 The FloWave Ocean Energy Research Facility at Edinburgh University has secured the 'Best Innovation' prize at this year's Scottish Renewables Green Energy Awards.
The world-leading ocean energy test facility – which can replicate both waves and tides in its unique 25 metre circular pool – landed the prestigious innovation award at a ceremony held in Edinburgh last night.
Congratulating FloWave, University of Edinburgh Principal and Vice-Chancellor Professor Sir Timothy O'Shea said:
"Congratulations to the FloWave team on their well-deserved win. This is a worthy accolade befitting a world-class facility, and we look forward to seeing FloWave build on its success in the months and years ahead."
Commenting on the award, FloWave Chief Executive Officer Stuart Brown said:
"This award is a tremendous accolade for FloWave in its first year of operation. It gives well-deserved recognition of the collective effort of many dedicated professional engineers and academics whose combined vision and effort over a number of years has allowed this unique concept for an ocean test facility to come to fruition.
"A special thank you is due of course to our initial funders the Engineering & Physical Sciences Research Council, and to the University of Edinburgh for not only providing the loan funding to get the facility built in the first place, but also for their persistence and continued belief and support for the project through the two-and-a-half year build process. Also I should like to thank Scottish Enterprise for their contribution in helping FloWave make the step up from being not only the world's most sophisticated wave and current test tank for academic research, but to being a truly world-class test facility of international importance for commercial research, development and innovation.
"Finally I would like to thank main contractors Graham Construction and Edinburgh Designs Limited. They made this facility – quite literally! EDL in particular immersed themselves in the task and worked collaboratively with us to overcome the technical, hydrodynamic and control system challenges that such a novel design presented."
As well as winning the Best Innovation award, the FloWave facility was also shortlisted in the Engineering Excellence category.