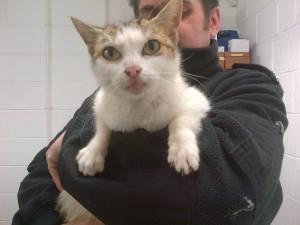 The Scottish SPCA is appealing for information after a cat suffering from a flea allergy was dumped on an Edinburgh doorstep.
Scotland's animal welfare charity was alerted at around 9pm on Saturday (15 November) when residents of Wardlaw Street in Gorgie discovered the feline in a pet carrier outside their home.
The tabby and white female cat is now in the care of the Scottish SPCA's Edinburgh and Lothians Animal Rescue and Rehoming Centre in Balerno, where she has been named Gypsy.
Animal Rescue Officer Melissa Maitland said, "The couple heard a knock at their door and expected it to be their takeaway, instead they found Gypsy outside in a pet carrier.
"She was suffering from fleas which had resulted in dermatitis, causing her skin to be very itchy and painful. Thankfully we now have this under control and she is doing much better.
"We are keen to trace the person who abandoned Gypsy as this in itself is an offence and it seems she hadn't been receiving the treatment she needed for her fleas.
"The pet carrier she was left in is quite distinctive as it's purple and covered in holes.
"We'll ensure Gypsy receives the treatment and care she needs and we'll soon find her a loving new home."
Anyone with information is being urged to contact the Scottish SPCA  Animal Helpline on 03000 999 999.