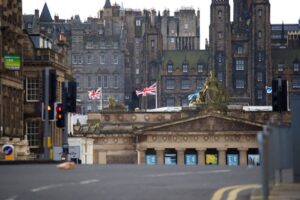 I once asked someone what people got from supporting a particular arts organisation. 'The warm glow of friendship (and that's your lot)' came the reply.
As a Friend of the National Galleries of Scotland, you can certainly expect lots of social – and sociable – events, but there's more to NGS membership than that. On Monday night the Scottish National Gallery hosted a reception for new 'Friends' – so what exactly does this particular version of friendship entail?
The NGS Friends enjoy some excellent privileges – invitations to previews of major shows, free entry to ticketed exhibitions and the opportunity to attend special talks, outings and holidays are just some of the benefits.  The group does, however, also play a major role in supporting the Galleries – as Catriona Burns, Chairman of the Friends, explained. The Friends have recently purchased a photographic portrait of Queen Elizabeth II by Julian Calder for the Portrait Gallery; they also help to fund educational, conservation and outreach projects, such as Bags of Art, which offers 'cool and creative fun' for children visiting Modern One, and Portrait Detectives, a fun trail for children to follow in the Portrait Gallery.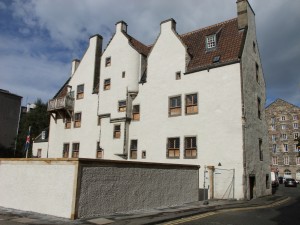 Friends' events (for which there is a charge) are immensely popular, and a great way to meet people too. Amongst those coming up this autumn are a visit to Lamb's House in Leith, talks about Hume, Ramsay and Global Enlightemment, and on Dante Gabriel Rossetti's Scottish Influences, and a History of Art course on Eight Great European Art Collections. Next year there's a holiday in Italy, and at Christmas a special party in the elegant surroundings of the Portrait Gallery: meanwhile the annual quiz poses many questions – including the baffling one of just which ear Van Gogh chose to do without.
Patrick Elliott, Senior Curator at the Gallery of Modern Art, gave a fascinating taster of an exhibition opening in November: The Two Roberts will showcase the works of Scottish artists Robert Colquhoun and Robert MacBryde, who took the London art world by storm in the 1940s, knew everyone from Francis Bacon and Dylan Thomas to Lucien Freud, and whose studio parties were legendary. In the 1950s their popularity waned as abstract art became the dominant force, and having spent some time looking after a friend's children in an Essex farmhouse – a time remembered by those children with great fondness – the couple (for couple they were, and happy to be seen as such), both heavy drinkers, descended into poverty. Colquhoun died in the middle of painting, penniless at the age of just 47, and four years later MacBryde ended his days singing outside a Dublin pub and getting run over by a car. This exhibition will be the first major retrospective of their work, and Patrick will give a talk about the artists on 24th November. Friends will enjoy a preview of The Two Roberts two days before it opens – and of course free entry for the duration of the exhibition.
If you would like to become a Friend of the National Galleries of Scotland, you can apply online or complete a form available in all NGS galleries. Annual charges vary – students can join for as little as £20 and individuals from £40. Membership is also an excellent gift, and might just solve some of those present nightmares looming as December approaches.