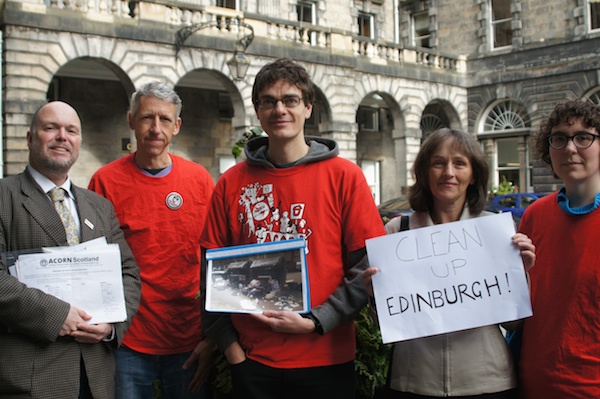 Leith ACORN members delivered a petition with over 500 signatures asking the Council to provide adequate refuse collection and recycling services in the Easter Road area. ACORN Leith is part of ACORN Scotland, the 'Association of Community Organisations for Reform Now'.
The petition was received by local councillor Nick Gardner at the City Chambers.
At a public meeting last month, forty residents voted on litter and refuse collection as the biggest problem in the neighbourhood, and decided upon a campaign of action to sort the situation out.
Ben Stollery of the Leith branch of ACORN said, "Residents of the Easter Road area have been enduring overflowing bins, fly-tipping and the lack of glass recycling facilities for months now.  Our members want the area cleaned up, and we are asking the Council to provide the resources
needed to make this happen."
ACORN members are asking for: facilities for glass recycling in the Easter Road area. The  re-instatement of at least 1 barrow-man in the area to deal with the litter problems. And the re-instatement of free uplifts for large items of rubbish