Edinburgh's Aquamarine Power collaborate on the scale model now in place for next stage in research
The goal of a standardised, self-contained offshore electricity generator for the wave industry moved a step closer last week when a tenth-scale WavePOD prototype moved to the world-leading Institute for Fluid Power Drives and Controls (IFAS) at Aachen University, Germany.
The WavePOD wave power offtake device is being developed by global drive and control manufacturer Bosch Rexroth as part of a collaboration including some of Europe's leading wave energy developers, utilities and academic institutions. Its goal is to develop an industry-wide power take off that will generate electricity reliably and cost effectively at sea.
The tenth scale prototype which comprises a drive train, cylinder frame and power take off, has been manufactured in Middlesbrough and at Bosch Rexroth's hydraulics centre at St Neots, Cambridgeshire, prior to being shipped to IFAS.
"Laboratory testing at Aachen University's world-class facility will give excellent data on how the WavePOD works in controlled conditions, and will allow Bosch Rexroth to develop and refine the prototype prior to testing at sea next year," says Martin McAdam, Chief Executive Officer of Aquamarine Power – one of the founding partners in the collaboration.
"The project will then put the WavePOD prototype through a programme of installation, operation, maintenance and decommissioning in a real sea wave conditions on our Oyster 800 machine in Orkney in 2016," McAdam says.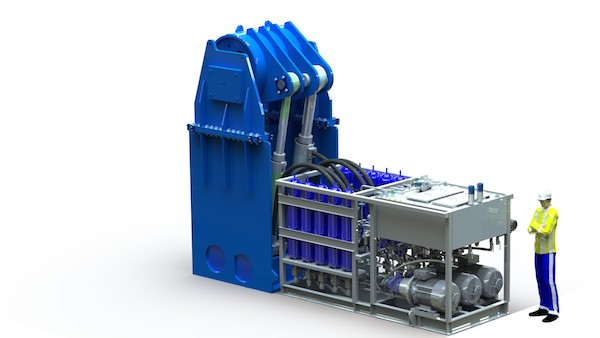 Following this, the consortium hopes to have secured funding which will allow the development of a quarter scale prototype to be tested at sea on both Oyster 800 and Carnegie Wave Power's CETO technology at WaveHub in Cornwall.
The WavePOD prototype development and testing programme receives funding support from the Scottish Government's Marine Renewables Commercialisation Fund (MRCF).
Progress has been welcomed by Simon Robertson, MRCF Programme Manager from the Carbon Trust.
"A significant milestone has been met on the way to developing a common power take off system with significant cost and performance benefits," he says.
Consortium partners include project founders Aquamarine Power and Bosch Rexroth, along with wave technology developers Albatern, Carnegie Wave Energy UK and M4 WavePower. It also includes Irish utility ESB, the Offshore Renewable Energy Catapult, IFAS and University College Dublin's Energy Research Centre.