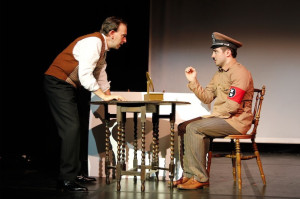 UK Premiere
CHAPLIN
The Pleasance Courtyard – Forth | 30th July – 25th August (not 11) |  12:20pm (70mins)
Fringe First winning Ace Production (Continuous Growth) bring the life of Charlie Chaplin from the silver screen to the stage. The story of Chaplin is as  great as all stories he gave life to on the silver screen. Growing up in the London slums, he put the world at his feet through his talent and  tenacious work and became one of the world's most famous and beloved  persons. His life is a classic story of someone who has nothing but wins everything. It is a story of what fame and money cannot buy; a story of someone who is forced to put it all on the line for the sake of his  belief in love, art and freedom.
Pleasance Courtyard Venue 33 Tickets here.