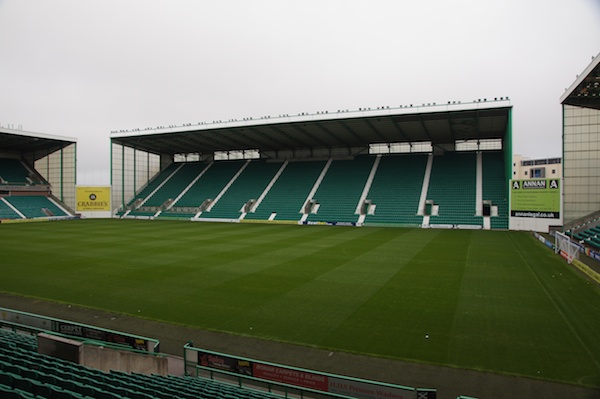 Paul Kane had described Hibs' decision not to allow fans, intending to protest about Rod Petrie's continued involvement with the club, access to the stadium as a 'PR Own Goal.'
New Chief Executive Leeann Dempster is meeting with a number of supporters groups on Saturday morning, including the Hibernian Historical Trust, The 'Working Together' fans' group, the Hibernians, the Former Players Association and the Erin Trust.
The 'Petrie Out' campaign have asked all supporters to gather at the stadium ahead of this meeting to demonstrate to Ms Dempster the depth of feeling.
Rather than have fans congregate in the car park, Kane had asked for the East Stand to be opened to allow fans to protest in comfort, but the club declined this request.
The 'Petrie Out' campaign issued the following statement in response:
"At a meeting at the Hibs Supporters Association last Friday,  a unanimous decision was taken to hold a rally at Easter Road on Saturday, June 7.
"Yesterday a formal request was made to the new chief executive, Leeann Dempster, by Paul Kane for access to the East Stand.
"The chief executive rejected the request this morning.
Paul Kane said: "We are very disappointed the club is shutting the doors on its own fans.
"For health and safety reasons we asked for access to the East Stand, which holds 6000 people, rather than have a large crowd gather outside the ground.
"Leeann Dempster has cited renovation work along with logistical reasons and the timeframe as reasons for turning us down.
"We are sure these could easily have been overcome and we could have worked together to sort it out.
"The health and safety of Hibs fans on the day is paramount. We will speak to the police and the council about it.
"We did contact Leeann Dempster at the earliest opportunity, as soon as she took up her post at Easter Road yesterday morning.
"We are also disappointed that we heard our request had been turned down through the media – not from the club.
"It would have shown some courtesy and respect to the fans to have contacted us first.
"It is another PR own goal but you get used to that. All too often the supporters seem to be an afterthought. "