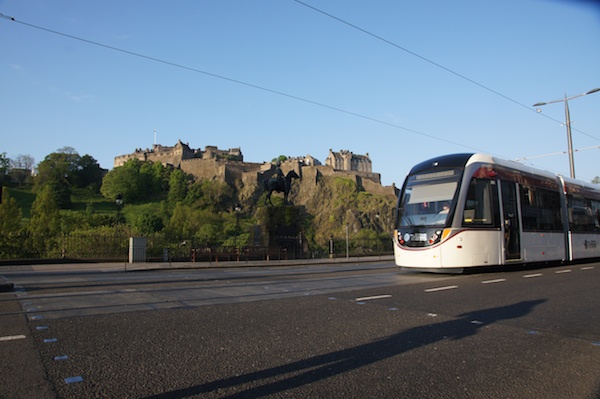 A small group of people swelled to a crowd this morning in York Place waiting to board the first tram to the airport. In comparison the crowd at the Gyle was a throng by the time the first tram got there to pick them up, but somehow all of them managed to squeeze on board, accompanied by Transport Convener, Councillor Lesley Hinds.
By the time tram number 275 driven by Craig Scotland reached its destination  it was a fairly cheerful group who disembarked, all clutching their first platinum tram tickets.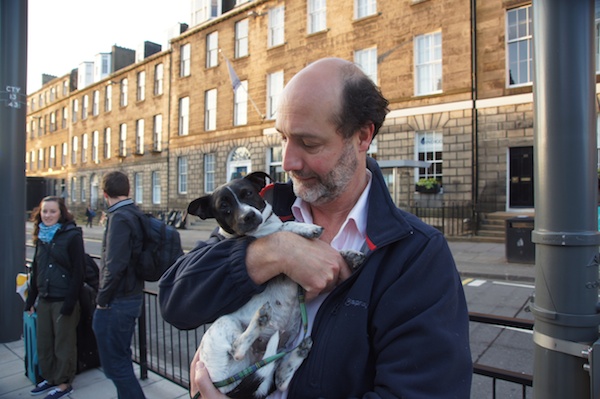 In York Place Flossie was waiting to board her first tram hoping for media stardom as the first dog to use Edinburgh's new tram line.  We also met some real live passengers getting on the tram to go to Edinburgh Airport and board a flight to Belfast.
We met three generations of the Milne family, Andy, Gordon and Douglas who all travelled together on the tram from York Place. Grandfather Andy had travelled on a tram on the last day in 1956 and was keen to be here again this morning.
The new form of transport has bred entrepreneurship too in the form of T shirts designed to reflect that the trams might have been worth waiting for.
Have you been on board? Send your photos here please!