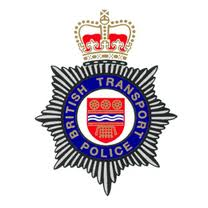 British Transport Police are looking for a gang of around six men who were involved in singing sectarian songs and acting in a "threatening and abusive" manner on a train travelling between Edinburgh and Glasgow on Saturday.
The men boarded the Edinburgh Waverley to Glasgow Queen Street service at Linlithgow station around 6.35pm on Saturday evening and are reported to have acted in a threatening and abusive manner.
They were also reportedly singing songs of a sectarian nature until they got off the train at Falkirk High around 15 minutes later.
The only description of the men available is that they were all aged less than 40 years.
CCTV footage from on the train and at both stations is currently being reviewed in an attempt to identify those involved.
Constable Christopher Sutherland is asking anyone with information to get in touch with him.
He said: "There is no excuse for this sort of behaviour on public transport. This was a busy service and I am appealing for anyone who was on the train or at either station and witnessed this unwelcome behaviour to come forward."
British Transport Police can be contacted on 0800 40 50 40.