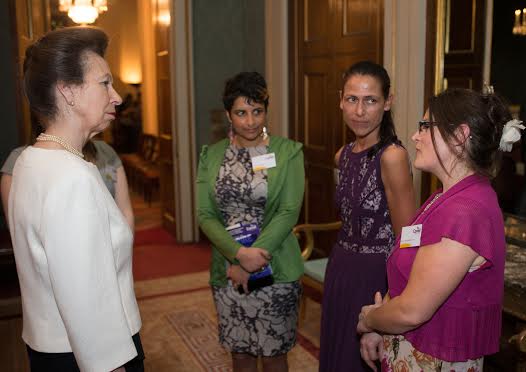 A student from Edinburgh enjoyed a royal date when she attended a glittering ceremony in London to celebrate the brightest nursing and midwifery students of today.
Myra Ariyaratnam met Her Royal Highness The Princess Royal, who was guest of honour at the event, held at Fishmongers Hall, London Bridge, which marked the culmination of the prestigious 2013/14 Cavell Nurses' Trust Scholarship Awards.
Myra, aged 28, who is in the second year of a mental health nursing degree at Edinburgh Napier University, won the coveted Outstanding Academic Achievement Award which comes with a travel scholarship worth £1,500. She received her award from Jane Cummings, Chief Nursing Officer for England.
At the event The Princess Royal addressed the invited audience, saying: "It is a pleasure to join you tonight, a really nice occasion for us all to be able to celebrate and congratulate our winners and to thank, particularly the Cavell Nurses' Trust for supporting the next generation of nursing leaders in Britain at such an important point in their careers."
"The Trust feels this is an appropriate time to allow us to invest even more in the future of our young nurses and midwives. It is an entirely worthwhile aim of this kind of event which raises the profile of these young people."
"If the Trust has the ability to support more of them, they can attract more people to the opportunity and support their ambitions and dreams for the future."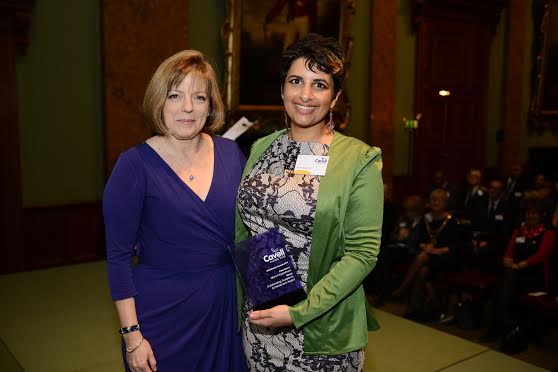 The Princess Royal also spoke about the "ethos" that Edith Cavell had, "the real role she had in caring and the real difference that made. Edith Cavell had so little to work with but what a difference she made in the name of humanity. And that is something we really can afford to celebrate in the next few years.
"It is a story that touched people's lives across the world, not just here in Britain. And the Trust has a lot to celebrate and a lot to go for."
Picture captions: Academic Achievement winner Myra Ariyaratnam (pictured left) meets Her Royal Highness The Princess Royal with Lindsay Skyrme, award runner-up and Sarah Broadhead-Crofts, who was highly commended in the category.
Myra receives her award from Jane Cummings, Chief Nursing Officer for England.