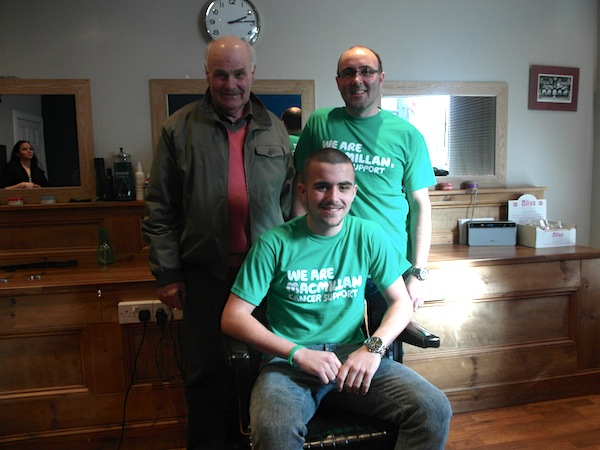 15 year-old school pupil Aaron Gilfillan shaved his head on Saturday to raise funds for Macmillan Cancer Support.
Aaron, a pupil at Craigmount High School, was inspired to support Macmillan when his Papa, John Thomson, was diagnosed with terminal liver and lung cancer in January.
John is being treated at the Western General and the family has been supported, emotionally and financially, at the Macmillan information centre based at the hospital.
Aaron has raised over £1700 for Macmillan so far.
Aaron said:- "I chose to support Macmillan as my Papa will be supported by Macmillan nurses and I wanted to give something back to the charity for their help.
"People are used to seeing my hair styled, so I knew it would be a shock for people to see me with no hair at all."
Fundraising Manager for Edinburgh, Jayne Forbes, said:- "We are very grateful to Aaron and everyone who supported him.  He has raised a fantastic amount of money which will help us make a real difference to the lives of people affected by cancer.  We help people in many ways, from specialist nurses and doctors, to help and advice for people who have financial worries as a result of their cancer diagnosis.
In Edinburgh there are 53 specialist Macmillan nurses and health care professionals, helping people living with cancer and their families receive essential medical, practical and emotional support.  Our team of experts and volunteers at the Macmillan Western General Hospital and Wester Hailes Information and Support Centres provide people with the opportunity to talk about their concerns, access booklets, leaflets, self-help and support groups or complementary therapies.
"The local Welfare Benefits team ensure people can access benefits and other kinds of financial support they are entitled to.  In 2013 Macmillan gave grants totalling £52,000 to people in Edinburgh to meet costs that can arise from having cancer.
"None of this would be possible without supporters like Aaron.  98% of our funding comes from donations and quite simply, we couldn't provide our services without support from people in Edinburgh."
No one should have to face cancer on their own and with the help of people in Edinburgh, no one will. To find out more about fundraising for Macmillan contact the Fundraising Support Centre on 0300 1000 200 or to support Aaron's efforts visit his fundraising page www.justgiving.com/Aaron-Gilfillan