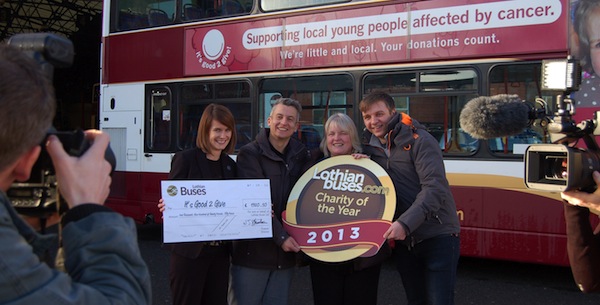 Two men who set out to conquer the Edinburgh bus route in just one day have had their fundraising efforts doubled by Lothian Buses.
Chris Dunn and Neil Gregory, both from Edinburgh, raised a total of £1920.50 after they went on 44 out of 48 Lothian Buses services on Thursday last week.
Now Lothian Buses have doubled their donations bringing the total raised to almost £4000 which will be donated to the company's charity of the year It's Good 2 Give helping young people with cancer and their families.
Chris, 24, from @LothianBus Geek said: "We are both overwhelmed by the support we received during our bus challenge and can't believe how many people got behind us during our mission to conquer the Lothian Bus Route. What started out as a bit of fun between me and Neil has turned in to a great fundraiser which will benefit a brilliant local charity.
"Although it was a long day, the fact we had great drivers and that I had a ridacard made it all that bit easier. Chris and I can't wait to plan our next fundraiser on the buses!"
Lynne McNicoll, founder of charity It's Good 2 Give, said: "We would like to thank Chris and Neil for choosing to donate the funds raised to It's Good 2 Give. We also want to say a huge thanks to the guys at Lothian Buses for their support in doubling the funds raised. The money will go a huge way in helping young people in the local area with cancer and supporting their families."
Sarah Boyd, head of operations at Lothian Buses, commented: "Both Neil and Chris have done a great job in their mission to conquer the Lothian Bus Route. We decided to match their fundraising efforts in honour of their journey and to support our charity of the year It's Good 2 Give."
As well as doubling the donation, Lothian Buses also topped up the guys ridacards for future journeys.