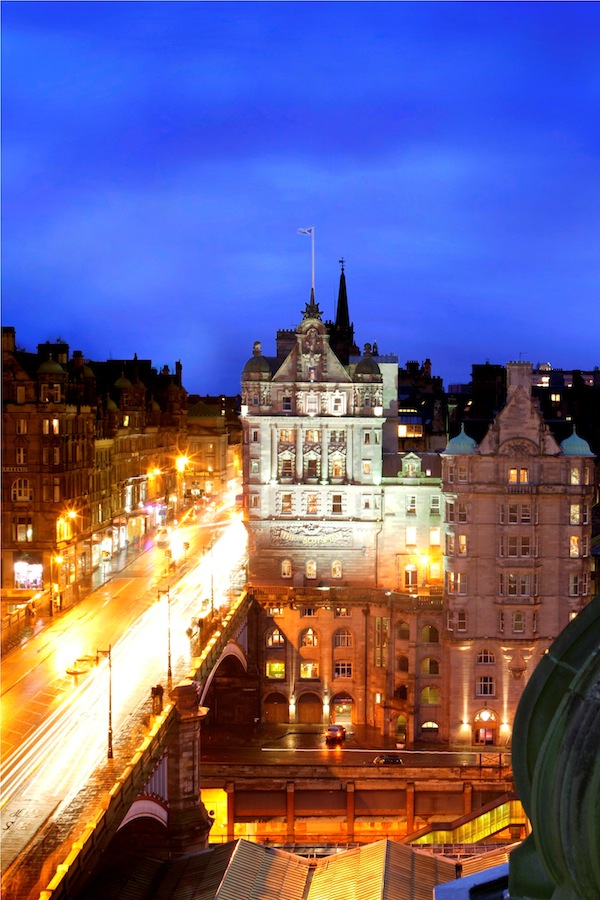 I got an e-mail from my editor asking how much whisky I could drink? Now was this a challenge because I could tell about the night my father-in-law drank a bottle of…no I'm sure she didn't want to know how that night ended. I LOVE whisky and when I found out The Edinburgh Reporter wanted me to review a brand new 'introduction to whisky tastes of Scotland' given by The Scotsman Brasserie, I had e-mailed my answer back before you could "pour me another."
So my good lady wife and I arrived at The Scotsman Hotel full of anticipation. Oh, by the way, my wife loves whisky too, so we were both excited. Met at the door and taken to our table by the very welcoming Maitre De', we sat and after a gracious pause we were greeted by the brains behind this whisky introduction:- Lewis, a local of Castletown in Sutherland, a young man with an impeccable whisky heritage having grown up smelling the mash towers of Pultney.
He gave a simple and very clear introduction to when, why, and what we would be tasting tonight. We were to be told the best way to taste the broad and diverse range of different malts from the 4 corners of Scotland, including Glenkinchie from 15 miles south of Edinburgh, Balvenie, a classic malt from Speyside, Old Pultney a wonderful drink from Wick and finally, Caol Ila, an eponymous smoky malt from Islay. Well he certainly had all the corners of our small whisky producing country covered and he had certainly given us the chance to sample all the classic malt tastes.
Not only would we be trying the malts he had chosen, but these would be coupled with local produce, designed to complement and enhance the taste of the drink. I must admit I was intrigued. I had tried wine and food nights, but never whisky and 'nibbles.'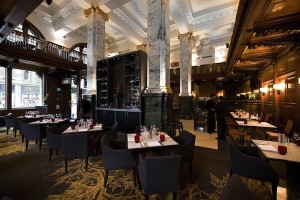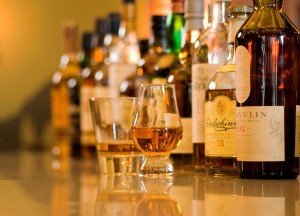 Now as we waited for our whisky we got chatting with our table neighbours. A lovely couple of couples all the way from the good old U, S of A. One of the guys was a connoisseur and so after, I must admit, very little persuading they decided to join us for the tasting. Now here is why this new idea is going to be a success. It's a fun idea, its something to do with friends, works night out, first date………a brilliant way to get together, Whisky drinking!
The whisky arrived presented on a map of Scotland, along with a slate tray of our matching tasters. On the back of the map was a brief description of each whisky, its distillery location, along with simple tasting notes. So we started and so did the fun. Lewis knows his stuff, the choice of whisky from each region was superb, especially as it is aimed at novice whisky drinkers and the tasting notes were spot on. Each one providing a novice with great descriptions of what you'll get. I get a bit worried about some tasting notes that are way too pretentious, but once again Lewis had provided simple and very accurate notes for any taster.
Lewis (oh God I've become a Lewis acolyte) described each food accompaniment as simply as his tasting notes. He suggested we try the whisky first, then the small bite, then finally both together. So off we went. With the Glenkinchie came Edinburgh home made Lemon Meringue Fudge, mmmmm. With the Pultney came cinnamon pear, not my favourite. The Balvenie was served along with lovely homemade chocolate coconuts and the Caol Ila with a beautiful smoked cheese.
What a laugh! Everyone joined in, everyone had an opinion, everyone enjoyed. As I said this was a great icebreaker, a guaranteed 'get everyone involved' night of fun. The accompaniments added much to the taste of the whiskies. The whiskies were fantastic examples of each region's variety and together you couldn't ask for better pairing. I was sold. Our newfound friends had a blast and before long we were arguing about the finer points of each taste as though we had known each other for years. I don' suppose we would ever agree over whether the Islay was better than the Speyside, but that was part of the fun and it was great.
Lewis was a fantastic host and assures me there will be intermediate and expert menus to follow. So you couldn't find a better a better way to spend an evening with, friends, strangers, work mates, partners, anyone in fact. It was so far removed from the stuffy tasting nights I'd experienced before so hats of to the team for providing a modern take on this oft used formula.
So go for it, book quickly to guarantee a great night out. For everyone!
If you are interested in their whisky tasting experience just drop in to the North Bridge Brasserie at The Scotsman Hotel or contact them direct on +44 (0)131 622 2900.
Check out the pre-theatre menu at the North Bridge Brasserie here on zomato!