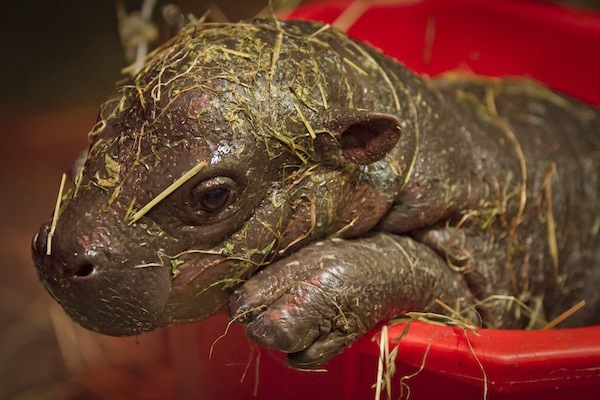 Ellen and Otto the pygmy hippos at Edinburgh Zoo are celebrating the arrival of a new calf born on Sunday 27th October.
A female who has been named Adana by her keepers, which is a West African name meaning 'her father's daughter', the new offspring is keeping warm indoors with mum. Although she is still a little shy, Adana has just started to venture into the indoor pool.
Mum Ellen was herself born at Edinburgh Zoo in 2005, named after yachtswoman Ellen McArthur, and this is her third female youngster born to dad Otto. Leishan was born in 2009 and Eve on New Year's Eve in 2011.
Lorna Hughes, Team Leader for Primates and Hoofstock at Edinburgh Zoo, said:-"Ellen is a very special pygmy hippo as not only is the species classed as Endangered in the wild and numbers are still declining, we are particularly fond of her as she was born right here at Edinburgh Zoo eight years ago. A very maternal animal, Ellen has proven herself to be a fantastic parent to her offspring. Baby Adana is just over a week old now and is feeding well from mum. Growing in confidence every day,Adana has ventured into the water under the watchful eye of mum. Even though pygmy hippos are incredible swimmers, it's a little known fact the hippo calves need to be taught how to swim by their mothers.
"Our pygmy hippos at Edinburgh Zoo are extremely popular with visitors. Baby Adana can currently be seen in the indoor hippo house with mum Ellen, whilst dad Otto and big sister Eve are in their outdoor enclosure during the day."
Native to West Africa, pygmy hippos are endangered through hunting and habitat loss. Edinburgh Zoo has successfully been part of the European Breeding Programme for this species for many years, with 18 offspring successfully reared here since the 1970s. Darren McGarry, the Head of Living Collections at the Zoo, also sits on the European Endangered Programme Committee.