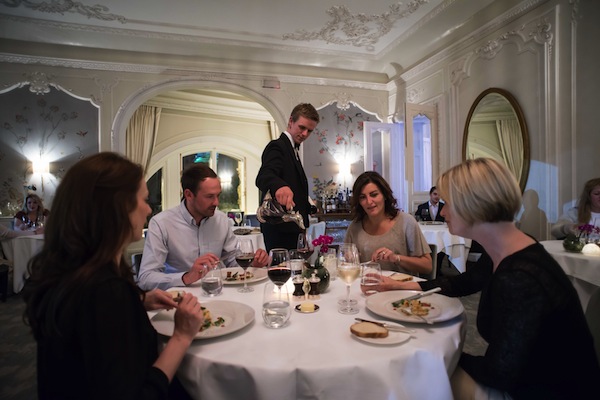 An Introduction to Haute Cuisine
I've never been part of an experiment before but when my wife and I were invited to take part in the first night of the Edinburgh Caledonian's 'try your hand at cooking night'  I felt that I was really part of an unusual take on Come Dine With Me. But I needn't have worried. We were welcomed with a genuine warmth and friendship that I didn't expect from such an illustrious establishment.
So here we were in a full on, Galvin Brothers, Michelin Starred, Three Rosette winning haute cuisine restaurant, but to be honest I felt as relaxed and comfortable as if I had walked into my favourite Aunty's house, all ready for my Sunday dinner. Mind you, my Aunty must have had it some dining room! 'The Pompadour by Galvin' is situated in a the grandest of grand, French Empire inspired, sumptuous interiors that I had been in for a long time. The room was originally the first class lounge of the Caledonian Railway Hotel and our table, just situated left of the flagpole overlooking the West end of Princes Street, commanded the whole of the room and would have been equally at home hosting Duchesses, Lords, Ladies and far more sophisticated tastes than me.   We really felt as though we'd arrived.
The night is sold, as I said before as a 'Come and try cooking with Michelin starred chefs' Phew! What had I let my self in for?  I'm not the greatest of chef's, as my poor wife will testify to but no, I was here to try. So when invited by a long line of waiters to accompany them to the kitchens we joined our fellow diners through the swing doors and into a new and wondrous world, totally alien and totally different from anything I had seen before. All I had were visions of shouting head chefs, crazy orders, sweating souse chefs, running, panicking waiters and a sense of total chaos and again I must admit to being slightly nervous. But as with the restaurant itself we were welcomed like old friends into a bright, airy and hospitable work place. There was an air of purposeful industry but none of panic. Yes it was busy, but busy in a directed and calm, yes calm way. Everyone was involved and getting on with what ever they were doing with a quiet efficiency.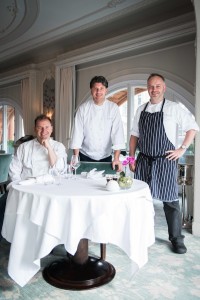 "Hi there, welcome to the kitchen". Who was this charming guy and where was the scary Head Chef yelling orders at everyone? Well he turned out to be not scary in anyway but the executive chef, Craig Sandle, the lynchpin in the Galvin brothers' vision of perfect dining. A man with clear ideals and very clear and calm orders for everyone and with no fuss, no panic we were soon pan searing scallops and watching at the slight colour change ready to turn repeat and pass for plating. So with no effort at all I'd created my own starter. I have to admit to some very good guidance from Andy, a young chef from Harthill, in his third job since finishing training and by his own admission the best by far. Again a very calm and purposeful young man who obviously new what he was doing as he showed me the best way to ladle the sauce over my scallops, all fresh and direct from the Scottish West coast. The smells and tastes in the air were amazing and I now realised the hardest part of cooking at this level. Not finishing everything you cooked before the guests ever got a chance. And as quickly and efficiently I had entered the kitchen we were escorted back to our fantastic table and served my dish……………….. I'm sorry I even have to admit it was amazing, and wait for it, even my great cook, wife, my hard to please and very fussy wife, especially when it comes to seafood, (Well she's from Shetland and they learn to cook seafood as soon as they can walk) was impressed. She loved it.
This was fun, and I started to relax again and wait for our next task, but instead of another invite to "follow me to the kitchen, sir" we were invited to choose from a simple selection of soup, main dishes and desserts.  Our work was over for the night we were now tasked with enjoying the fine dining. So I sat back, ordered pork and let the restaurant take over and it certainly knew how to do that.
It was now that we met another great character of the night; Peter the Head Sommelier. For every course we chose from now on was to be accompanied by a wine that our Sommelier had chosen to complement the food.
Now I have partaken in a few wine tasting evenings before and I know what I like, but have never developed my palate or my wine knowledge to a level where I can order a wine that would actually enhance my food choice. So here I really take my hat of to the Pompadour by Galvin, they had Peter. A young man with a vast and really honest knowledge of his subject. Being a happy whisky drinker I've never really gone in for those wine tasting, notes, noses, tastes hints and suggestions that every wine snob keeps up his sleeve, as I said I know what I like and that's about it. But Peter, in his simple and honest description of each wine excelled. His suggestion for my beautifully prepared and presented partridge consume was unbelievable. To accompany this delicate yet wholesome dish that was at the same time full of the partridge taste yet infused with lovely vegetables was a light and yet somehow full Chardonnay. Inspired was the first word that came to mind.
Fiona had chosen the Goat Cheese Salad, simple and light and with it came one of the most refreshing wines I had ever tasted, a Riesling that had a zing and freshness that matched her starter as beautifully as my Chardonnay.  I had to have another taste of this and it just reminded me of my starter.
My main course of pork arrived and I was again delighted, Beautifully prepared with fine vegetables, just cooked enough to be crunchy and allow the pork to fill your mouth with a great taste. But wait my wine came and this time I was offered a Medoc that, wait for it, again added to the dish, lovely and perfect for my main. Fiona offered me a taste of her German Burgundy that was to match her pan seared cod. Well here I have to admit that the wine was far better that the dish. I'm not a fan of cod generally, another throwback to living in Shetland for too long but as long as it's cooked well then I'd be happy. But I hate to say it so shall say it quietly…It was just a little overcooked that fish, not a patch on what we had eaten before and quite a disappointment.
I'm not going to dwell on Fiona's choice or the rather boring desserts that again were kept interesting by a great matched pair of wines. No we were having too much fun. So much that we asked our fellow diners who we'd just met in the kitchen, to join us for some coffee, some feed back, and a chat. So after some introductions and a bit of background we sat and listened to what everybody else had thought about the Caledonian's experiment. It was great fun. That was the overriding theme that came across from everyone we asked. It had been great fun. Really great fun all presented in a fantastic environment, by a group of great people who so obviously loved what they did, they just sparkled with enjoyment and enthusiasm.
After a bit of persuading a few of us visited the kitchen again, primarily to say thanks, but also for me to check if the relaxed atmosphere and general good will was still there. And guess what? It was still as it had been an hour and half ago. No broken bodies or tearful juniors still just an all-encompassing feeling of enjoyment.
And that sums it up for me and for the rest of my fellow diners everyone of the people who were there working for us shared a real joy for what they did. They enjoyed coming to work, and their enthusiasm rubbed off on us all and we enjoyed it too.
So cheer yourself up, go and share, you will have so much fun.
But hurry there are only so many Thursdays in November!