The doom and gloom surrounding Easter Road since Wednesday's defeat to Hearts was replaced with memories of a happier time last night as several former fans' favourites mingled with supporters at the launch of Tom Wright's latest book ' Crops: The Alex Cropley Story.'
Over 200 fans braved the terrible weather conditions and copies of the book flew off the shelves as Hibs' greats such as Pat Stanton, John Blackley, John Brownlie, Eric Stevenson, Neil Martin, Peter Cormack, Jim Black, John Fraser, Billy Murray and of course the start of the show Alex Cropley happily lined up to sign autographs.
If that wasn't enough excitement, a DVD of the Turnbull's Tornadeos in action, including a certain game at Tynecastle where Alex scored twice was playing in large screen TVs in the Gallery Lounge and reminded those who needed reminding how good that team was at their peak.
Of course Alex wasn't only a legend at Easter Road, and a contingent from the Arsenal Scotland Supporters Club including Chairman Martin O'Donnell and Vice Chairman Fraz Mackenzie also attended the event to pay tribute to their former player who is still fondly remembered by Gunners' of a certain age.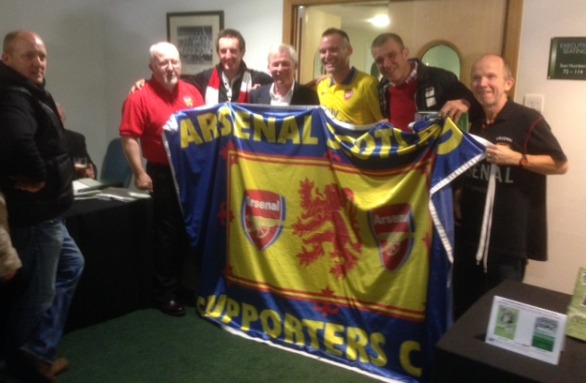 Afterwards former club captain Pat Stanton said: "That time was a special time here and I always look back fondly to when Eddie (Turnbull) was the manager and John Blackley and John Brownlie were playing. We had all those tremendous players and were one of the best teams in Britain at that time and I feel very fortunate to have played then.
I don't want to embarrass Alex, but I always had favourites. Jimmy O'Rourke was a favpurite and a big pal of mine but if you asked me which player I liked the best I would have said it was Alex Cropley. He was such an exciting player although he was a moaning faced wee b****r at times.It's his night tonight and I feel privilaged to be here."
Former team-mate John Blackley said: "I remember Alex coming into the park as a youngster, playing for the reserves and it was just a matter of time before he broke through into the first team. I'm sure his first game was against St Mirren through in Paisley. I remember because his bravery was untold and the ball broke between the right back and Alex on the left side. It was a 50-50 or just about and the right back would be the favourite to get the ball but Alex rattled into this guy, got the break of the ball and went forward and hit the post. We knew that this was just the start of something that was going to be huge. As Pat says, he's a crabbit man but what a footballer. We were so blessed to have played with Pat Stanton, Alex Cropley, John Brownlie, Alex Edwards and the rest. It was just a really nice time to be at Easter Road."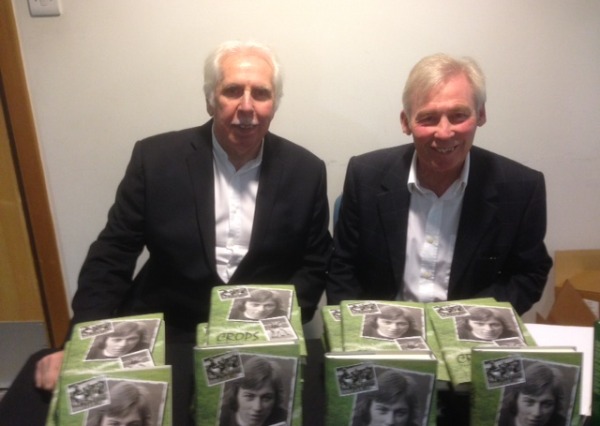 Another former team-mate Eric Stevenson joked: " I was such a great help to Alex I took him for his first pint, but he was something special. I grew up watching the Famous Five and Alex wouldn't have been out of place in that forward line. There were two of them came through at the same time, Alex and John Brownlie and although we had some fantastic players throughout the sixties, these two were as good as anyone.."
Former coach John Fraser said: "My first memory of Alex was when I was in charge of the reserves. We were at Arbroath and after the game I had to run him home and I thought that he should have been in his bed at that time of night as he was only a young laddie.
"When you see football these days and you see the ball getting switched from the right to the left or the left to the right, well Alex was the best ever at doing that. He had the sweetest left foot you had ever seen. Apart from that when I was sitting on the bench I used to shut my eyes when he went in for a 50-50 tackle and think 'Dinnae go in for that ball' but he did go in and he won the ball. He had the heart of a lion."
Alex Cropley then concluded: "I just want to say a big thank you to Tom (Wright). It was a pleasure for me to do this book  as it brought back do many memories of team-mates such as Pat, John and Eric. I enjoyed doing it and I hope everyone enjoys reading it."
Alex' playing history was highlighted in the Edinburgh Reporter earlier this week.