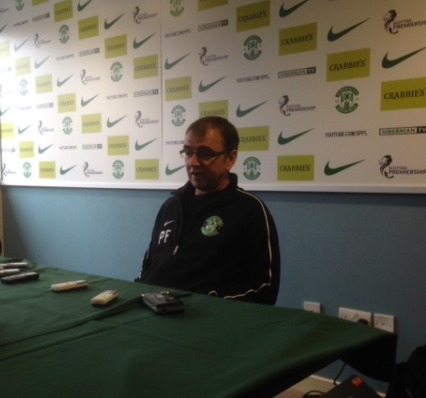 Pat Fenlon has singled out former Hibs' striker Anthony Stokes as the man his defenders will have to watch out for tomorrow when champions Celtic visit the capital.
Speaking at the weekly press conference ahead of the game, Fenlon said: "I know Anthony well; he was at Shelbourne as a kid when I was the manager there before he went to Arsenal. I know him really well from a playing point of view, although I don't know him that well personally. He's a real talent, and I think Gary Hooper leaving has really helped him. He's the main man and that has helped him.
"He was just a kid at Shelbourne, maybe 14, but he was such a special talent, a really good schoolboy player. He was bigger than everybody but he had all the natural ability in the world, the kind of thing you can't coach. I hope Anthony doesn't mind me calling him a street footballer, because it's something we don't have enough of in Ireland. We're not developing these type of players anymore, because the lads don't play on the streets.
Fellow Dubliner Fenlon is happy to see the talented striker back in the international fold after Ireland failed to qualify for the World Cup on Brazil next year, although he joked that he would have been happier had he been missing tomorrow.
"I'm delighted he's back in the Ireland squad, because he's a player we have lacked. He's someone I would describe as a street footballer – he has different things to his game, he's not methodical in the things he does, and to have that in your team is a great asset. From a defensive point of view he is difficult to tie down, because he does things off the cuff. From Ireland's point of view it is brilliant to have him back – but I was hoping he might've picked up something and not be fit again until Tuesday night.
Stokes has had his share of off-field problems as had Leigh Griffiths who scored the winner when the teams met at Easter Road last season, and Fenlon who was recently praised by the Wolves and Scotland striker for man management skills was asked whether he had used the 'arm around the shoulder' tactic in his dealings with him.
"Arm around the shoulder?" he joked. "It was more like the neck. Anthony is similar to Leigh, because there's a natural ability there. The key with Leigh was getting that ability on the pitch away from anything that was going on off the pitch. That man-management is as important as anything else; to try and get a real talent to perform to the level they are capable of.
"There are a lot of different ways depending on the player. When you have players like Anthony and Leigh you have to find a way. You want to make them the player they can be. Anthony, like Leigh, has probably matured more. He sees things in a better light, that he has a real talent and doesn't want to waste it. I have said that to Leigh a few times: 'You have a talent to play at a really high level, don't waste it.'
"There's no real coaching with guys like that. When they're in and around the box you just tell them to go and do your own thing. Once I had Leigh on the training ground he wasn't a nightmare at all. When he left the training ground you worried for him."
Danny Handling is back in the squad after injury but unlikely to start, while Sam Stanton is expected to be out of action for several weeks after injuring a hip in training.