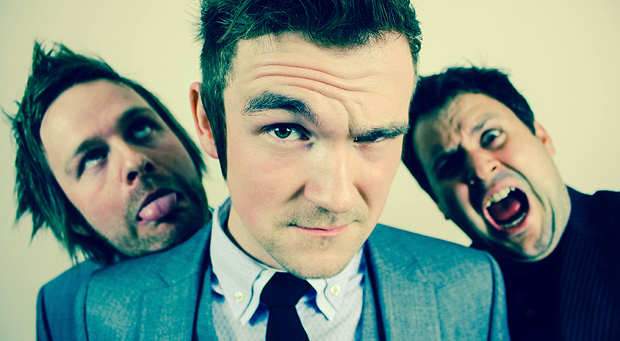 The trouble with magic shows is the whole 'it's bad form to write about what happens in case you ruin the surprise' thing.  It's quite hard to review stuff without saying anything about it.  Fortunately, The Colour Ham isn't all about the magic – there's a lot of daft sketch comedy to be had as well.
The show has a slightly shambolic air, with Gavin Oattes working particularly hard to put the other two off and give the impression they aren't necessarily all that good, which of course they are.  They open with a quick mind reading by Colin McLeod, who you may recognise from his TV work (mooning Simon Cowell et al on Britain's Got Talent), and progress with a series of sketches and illusions.  Highlights include a pet séance, an energetic homage to Riverdance and a guest slot from Dotoman, who may not be as friendly as he appeared on BBC Alba.
A surprise hit of last year's festival, Ham's reputation precedes them.  The room is almost full, and the audience loves their energetic silliness.  Several people are happy to get up as volunteers, with some helping to create an interesting musical acts and one bringing new meaning to dying on stage.
There are some great props, lots of daft costumes, and a massive helping of general silliness which has the crowd laughing often and loud.  The only criticism I might make is that the venue isn't a great shape for the business that happens low down on stage – sit in the back half of the room and your neck will often be craned.  Still, all that means is that you should get in early and you'll be laughing!
Go see if: you want a little bit of magic in your life this Fringe.
Where: Just the Tonic at The Caves
When: 8 – 11th, 16th – 18th, 23 – 24th at 19:45
Tickets: £11, available here https://www.edfringe.com/whats-on/comedy/colour-ham
Suitable for ages 16+