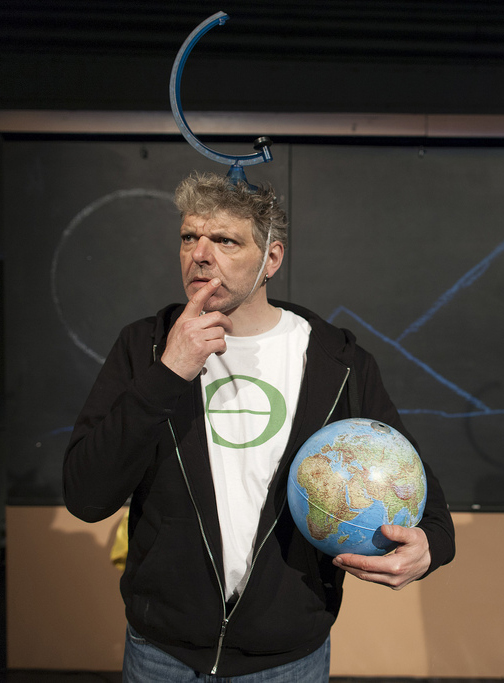 Family friendly theatre is not always easy to find in a festival saturated with comedy, but if that's what you want this August look no further than One Giant Leap, a theatrical storytelling event for adults and kids aged 10+ running at Summerhall.
'Have you ever had one of those moments, when Ping! A lightbulb seems to come on above your head and you suddenly understand something in a way you never did before?' asks Iain Johnstone, standing before us in an old lecture theatre lined with the kind of seats that were designed with posture and not comfort in mind.  'I have, and it totally changed the way I look at the world.'
Johnstone's lightbulb moment came from a project on the moon landing that – theoretically, at least – his son was working on for school.  However, as most parents will know, the end result with homework like this is often dependent on how interested Mum or Dad is in the project!  Starting with the notion that he had to find out more about space, Johnstone tells the story of how his research spiralled outwards until he's giving an exploration of the history of ideas.  This might sound like a weighty concept for a kid's show, but in the hands of Wee Stories (in coproduction with the National Theatre of Scotland) it all seems effortless.
The show travels through time, from the Big Bang to Aristarchus (not so bonkers) and Ptlolemy (kind of an idiot), then to Copernicus and Brahe, and back to the moon landing before asking young viewers to think about what might be next for our one in a million planet earth.
Those who have seen Wee Stories before will already know they are excellent storytellers, and with One Giant Leap they continue to impress.  The show weaves together factual narrative with music by David Trouton, technical effects (including a magic blackboard) by Andy Gannon, and a healthy dose of audience interaction to create a magical, immersive and educational experience.  Banter between Johnstone and Stage Manager Sooz Glen adds a sense of fun and intimacy to the show, and there are echoes of the sort of silliness you'll find in Horrible Histories so that although there is a serious message here, it's never preachy.
Perfect viewing for families, thinkers, or just for those who want to understand the universe.
Venue: Summerhall Demonstration Room (Venue 26)
Dates: 6 – 25 August (not Mondays)
Time: 10.15am
There will also be a BSL interpreted performance this Saturday 10 August 10.15am.