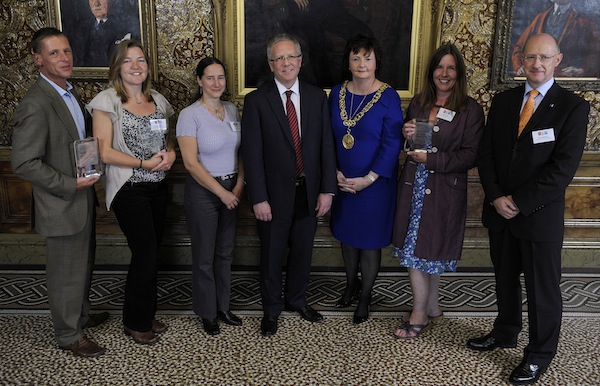 Some twenty four community groups across Scotland, including three in Edinburgh, have been selected to share a funding boost of £175,000 to make a real difference in their local areas.
Clydesdale Bank's Spirit of the Community Awards announced the substantial donations to voluntary groups at an awards ceremony in Glasgow, to recognise the charities and not-for-profit organisations which are going the extra mile.
Water of Leith Conservation Trust has been awarded £10,000 to support its community and volunteer development programme which aims to target new groups and extend existing partnerships. The funding will be used to increase the hours of the Community and Volunteer Officer, purchase additional equipment such as litter picks, produce a volunteer guidance pack and cover staff training costs.
Pilton Equalities Project, which aims to enhance the quality of life for older and other vulnerable adults in North Edinburgh, has been awarded £5,000 to expand its literacy programme, combining both literacy and employability skills.
National Trust for Scotland has been awarded £5,000 to assist with its 'Beyond the Gate' six month pilot project which will deliver weekly events at the Hailesland Child & Family Centre in Wester Hailes, Edinburgh. National Trust will work in collaboration with the centre staff to deliver a gardening programme focused on growing food and promoting healthy eating as well as outdoor learning.
The awards, which launched in January this year to mark the Bank's 175th Anniversary, were open to a range of organisations across the third sector which could demonstrate their support for the local community. Groups were invited to enter the awards scheme under one of three categories; education, employability and environment.
Three winners have been selected in each category, securing a funding boost of £10,000. An additional five winners in each category have been awarded £5,000. A further £10,000 was awarded to one charity whose contribution to the community the judges felt was outstanding meaning one organisation received £20,000.
David Thorburn, Chief Executive of Clydesdale and Yorkshire Banks, said:- "Clydesdale Bank's Spirit of the Community Awards aim to recognise and support the vital contribution that voluntary and charitable organisations make to their local communities. It has been inspiring to see the great work which is being done at grass roots level across the country.
"Water of Leith Conservation Trust, Pilton Equalities Project and National Trust for Scotland are extremely deserving winners which have been recognised for their community spirit with these awards from Clydesdale Bank."
The recipients said they were delighted to receive the awards. Helen Brown, Trust Manager at Water of Leith Conservation Trust, said: "As a small charity this kind of investment in our work and that of our volunteers means an enormous amount. We work to keep Edinburgh's river clean, green and full of wildlife. Thank you to Clydesdale Bank for recognising our work and choosing to support us."
Theodora Hidalgo at Pilton Equalities Project, said: "This award will help us to provide support to people with low literacy skills."
David McKinnon, Corporate Business Manager at National Trust for Scotland, said: "This award will make such a difference to the children and parents of Hailesland Centre, enabling them to grow their own food and giving them the opportunity to experience the richness of Scotland's landscapes."
Clydesdale Bank's sister organisation, Yorkshire Bank has also announced 12 successful recipients of £75,000 as part of the Spirit of the Community Awards initiative. This brings the total funds awarded to 36 community groups up and down the country to a quarter of a million pounds.
Submitted by CLYDESDALE BANK