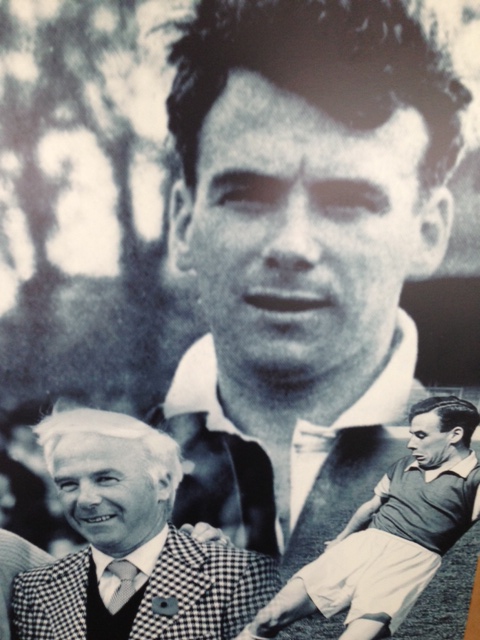 The whole of Scottish football is in mourning today with the sad news that the great Lawrie Reilly passed away overnight in hospital.
One of the finest footballers ever to play the beautiful game, Lawrie was born in Edinburgh on 26th October 1928, and grew up in a Hibs supporting family in Bryson Road on the west side of the city.
His father worked on the railways and as a schoolboy, Lawrie travelled by train to follow his beloved Hibs throughout the country.
As a youngster, he caught the attention of scouts whilst playing with Edinburgh Thistle where he once scored 106 goals in the team's unbeaten run of 55 games, including a Scottish Juvenile Cup win.
Lawrie signed for Hibs in 1944 and made his first team debut in a 4-3 away victory against Kilmarnock in October 1945 at inside right to Gordon Smith.
Although failing to make the required number of appearances to qualify for a championship medal in the club's title winning season of 1947-48, he had begun to make a reputation for himself and won the first of his 38 full appearances for Scotland against Wales in November 1948. He scored in Scotland's famous 3-1 victory against England in 1949, the first of five goals in four consecutive appearances at the same venue, the first player to perform such a feat. His second goal in the final seconds of Scotland's 2-2 draw in 1953 earned him the nickname 'Last Minute Reilly'.
As a member of the legendary Famous Five attack, considered by many to be the countries best ever forward line, he won League Championship medals in 1951 and 1952, and was the club's top goal-scorer in the seven consecutive seasons between 1950 and 1957.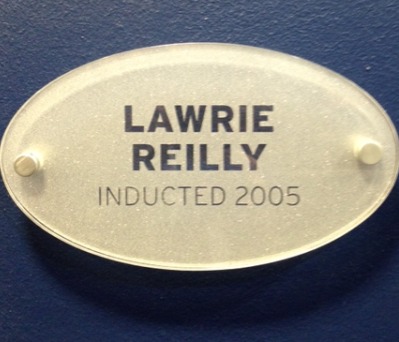 During his career with the Famous Five whenever the team kicked off, a supporter; Charlie Anderson would roar' Gie the ba' tae Reilly' and that famous phrase was included in the Hibs song by Hector Nichol. Years later, Lawrie attended Charlie's 90th birthday party at the Dockers' Club in Leith.
A cartilage injury in 1957 failed to respond completely to treatment, leading to his premature retiral from the game, aged just 29, the following year. His last ever game was perhaps fittingly against old adversaries Rangers and he captained the  Hibs to a 3-1 victory at Easter Road only days before the 1958 Scottish Cup final.
After hanging up his boots, Lawrie wrote for the Scottish Sunday Express and Scottish Daily Express commenting on schoolboy football in the capital. He also ran The Bowlers Rest public house although pouring pints was the closest he ever came to alcohol, and eventually after 36 years in the licensing trade, he sold the popular bar, which became better known as 'Reilly's' in 1992.
Much of his free time was taken up on the golf course where he enjoyed a fair amount of success, winning a number of tournaments, including the Broomieknowe championship twice and the Longniddy honours once. He also achieved an incredible six holes in one.
In 2005, Lawrie was inducted into the SFA Hall of Fame, and  also became a trustee of the Hibernian Historical Trust.
For the last few years of his life, Lawrie took his seat behind the director's box in the upper west stand at Easter Road, before every home game and happily chatted to fans at half time, giving his informed opinion of the Hibs performance.
In his 253 league appearances for the club Lawrie scored 185 goals and 47 others in cup-ties.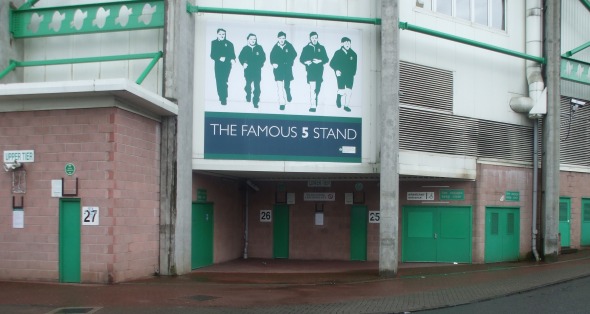 Lawrie was the last surviving member of the Famous Five, and was idolised by the Hibs' supporters, not only for his strength, bravery and endless energy on the field, along with his incredible alertness to any goal-scoring opportunity, but also his modesty, kindness, humour, and ability to make people feel at ease in his presence.
Club historian Tom Wright who has known Lawrie for almost 50 years told the Edinburgh Reporter: "This is a sad loss for Hibernian supporters to lose such a legendry player, but even more so to lose him as a person. He was an out and out gentleman who always had time to spend with the fans. He was popular to the end and a product of a bygone age where players played for the jersey. He played in the post war years which was the golden era for Scottish football.
"Lawrie was a modest man and always maintained that the defenders behind the Famous Five didn't get the credit they deserved. He will be sadly missed."
Club chairman Rod Petrie issued a statement on the official website: ""We all feel the loss of a true Hibernian great, but our hearts must go out first to Lawrie's widow Iris and to his family. Our thoughts are with them at this sad time. The term legend gets bandied about, perhaps too easily, but Lawrie was a genuine legend.
"He grew up as a Hibernian fan and he spent his entire career with the Club he loved. He was undoubtedly one of the Club's greatest ever players, revered by all who loved attacking and entertaining football. He was also one of Scotland's greatest ever strikers.
"Lawrie retained his lifelong passion for the Club he graced as a player and was a regular attender at matches, a match day host and was one of the Club's Champions. He will be sadly missed."
On the 15th of October 2010 in association with the Hibernian Historical Trust, the Hibernian Former Players Association and the Hibernian Supporters Trust, Hibernian Football Club held its inaugural Hall of Fame Dinner officially recognising, celebrating and commemorating the players, managers and other worthy individuals who have made Hibernian FC what it is today.
All members of the Famous Five; Gordon Smith, Bobby Johnstone, Lawrie, Eddie Turnbull and Willie Ormond were inducted, along with Michael Whelahan, James McGhee, Harry Rennie, Hugh Shaw, Joe Baker, Pat Stanton, Arthur Duncan, Jackie McNamara, Harry Swan and Sir Tom Farmer.
During a question and answer session at the dinner, alongside his friend for former team-mate Eddie Turnbull, Lawrie uttered the famous quote which will never be forgotten by those present. "I was born a Hibs supporter and I'll die a Hibs supporter."
Sadly that day has arrived, but the memory of the great man will live on forever among those fortunate enough to have met him.
He is survived by wife Iris, son Lawrance and six grandchildren, Laura, Sam, Emma, Emma, Clare and Stuart.
The Edinburgh Reporter sends our deepest condolences to Lawrie's family.