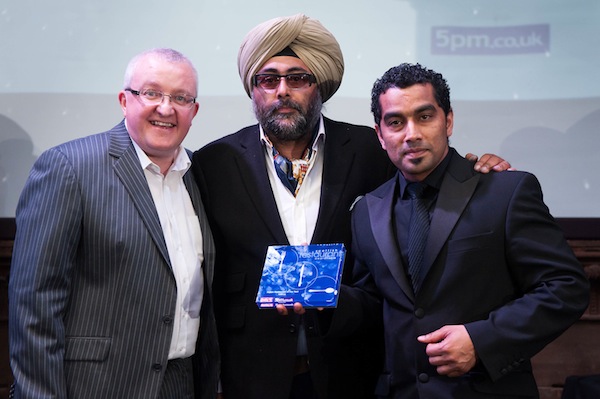 The Spice Is Right As Mithas Scoops Top Honour – Again
Mithas has underlined its reputation as Scotland's premier Indian fine dining restaurant by scooping another top award.
The Edinburgh venue, Scotland's first Indian restaurant to receive two AA Rosettes, won the Indian Restaurant of the Year title in the Scottish Restaurant Awards – for the second year in a row.
Group general manager Jaimon George said the honour was further recognition of the growing success of Mithas, which is owned by Khushi's, the revered Edinburgh Indian restaurant family.
He said:- "We want to be one of the most talked about restaurants in Scotland.
"Retaining the title of Indian Restaurant of the Year not only endorses this, but it clearly positions us the best place in Scotland to experience fine Indian cuisine.
"'Going for a curry' is the last thing we offer. Instead we have taken Scotland's love of Indian food and mixed that with great local produce and exotic spices to produce stunning dishes that have never been seen before in Scotland.
"Our cooking techniques and inspiration may come from the much-loved Khushi family, but our approach to food is very much modern and innovative."
Mithas, which was also Newcomer of the Year in the 2012 The List Eating and Drink Guide Edinburgh Awards, has recently undergone a minor refurbishment ahead of a proposed opening of a new adjacent Mithas Cocktail Bar.
Mithas, located in Dock Place in Leith, is now setting its sight on achieving the ultimate accolade of becoming the first Indian restaurant in Scotland to receive a prized Michelin Star – the restaurant is the only listed Indian restaurant in Scotland.
The Scottish Restaurant Awards – in their 6th year – saw more than 4,000 nomination for 500+ restaurants and takeaways across the country.
The 12 categories include recognition for Italian, Indian, oriental, seafood, rural and family friendly restaurants, takeaway, bar food, best use of social media, sustainability and the prestigious chef and restaurant of the year titles.