Heart of Midlothian (U17s) v Hibernian (U17s)  
Tynecastle Stadium
Friday 31st May, kick-off 6pm
Free admission  
There's an end-of-season derby at Tynecastle this Friday with the annual playing of the East of Scotland Shield.  Hibs, who lead 61-56 on titles, are seeking to make it 9-wins-in-a-row in world football's third oldest tournament.
Hearts are out to stop them and get their hands on the silverware for the first time since 2003.  Admission is free and stars of the future are sure to be on show, with the action getting underway at 6pm.
If the teams are tied after 90 minutes the destiny of the historic trophy will be settled by a penalty shoot-out.
Some interesting facts about this competition, we hope you enjoy them.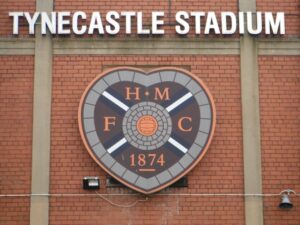 It is world football's third oldest tournament – after the FA Cup and Scottish Cup – and the oldest local tournament on the planet
Hibs have won the last 8 editions – surpassing the previous records of 6-in-a-row by Hibs in the 1890s and Hearts in the 1920s
In the overall "title race" Hibs lead Hearts by 61 titles to 56, with 10 victories having gone to other clubs
Competition began in 1875-76 as the Edinburgh Cup – the first winners were 3rd Edinburgh Rifle Volunteers
When Hibs won for three years running 1879-1881 they were handed the original cup, which was replaced by the current Shield. This was known as the "Edinburgh Shield" until the Edinburgh FA became the East of Scotland FA in 1888, making this the 125th anniversary of the East of Scotland Shield naming
The tournament is often cited as being responsible for Hearts and Hibs becoming the two big clubs of Edinburgh – as their 1878 Final went to four replays it captured the public imagination and generated a rivalry between them
During Victorian times the Shield was open to all clubs regardless of stature: but from 1891 the smaller clubs had to play in a preliminary stage, which was adjusted for 1897 into a qualifying cup, then from 1904 it was for Scottish League clubs only. Since the Second World War the Shield has normally been a single tie for Hearts and Hibs
Though originally one of the most important competitions in the football calendar, the invention of the League Cup and European football diminished the Shield; and in the last quarter of a century it has been largely played at youth or reserve level. Each year both clubs come to a "gentleman's agreement" over what players will be used
Hearts record victory came in the 1880 tournament when they beat Anchor 21-0, and Hibs record competitive win was registered in the 1885 Shield when they beat Emmet 20-0
Shield's record attendance is believed to be 26,625 who attended Hearts 3-2 Hibs in the 1946 Final at Tynecastle