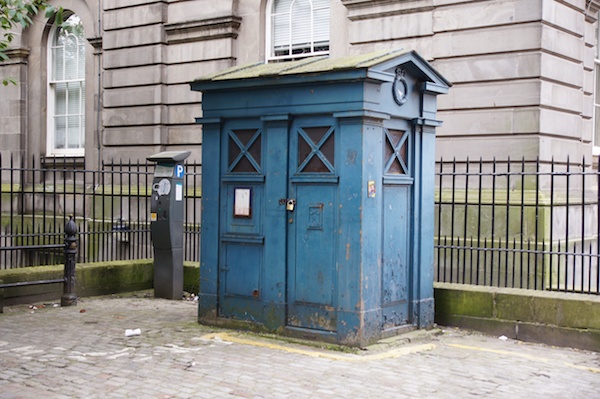 Monday marks the end of Lothian and Borders Police after an eventful 38 years serving the citizens of Edinburgh, East, West and Midlothian and the Scottish Borders, as every police officer in the country will become members of a single force known as Police Scotland.
Today, The Edinburgh Reporter looks back at the history of the Lothian and Borders Police since its inception on 16 May 1975 following the amalgamation of three separate forces:- Edinburgh City Police, Berwick, Roxburgh and Selkirk Constabulary and Lothians and Peebles Constabulary.
The new HQ which had been opened by the Queen the previous year was situated in Fettes Avenue. Coincidentally this was a short distance from the world famous Danube Street Brothel owned and run by Dora Noyce ,however Stockbridge  wasn't 'big enough for the both of them' so the house of ill repute eventually closed down.
During its existence, only five men have had held the post of chief constable, the first being John Orr, a larger than life character who had run Lothian and Peebles for the previous seven years. His father died from the great flu epidemic in 1918 when he was three months old, and John was educated as a Foundationer (a non-paying scholar) at the ancient George Heriot's School where he was a keen sportsman who excelled at rugby, playing as a wing forward.  He would have been in line for many international caps but for the war, although he did twice play rugby for Scotland against Wales and France in 1947. One of his Scotland jerseys was framed and hung in his office at Fettes.
Orr had joined the Edinburgh City Police as a boy clerk in 1937, before becoming a regular constable. During the war he was a navigator with Bomber Command, becoming a flying officer He returned to the Edinburgh City Police, rising through the ranks to become Chief Constable of Dundee at the age of 42 in 1960. Eight years later he became Chief Constable of the Lothians and Peebles.
Orr served for eight years before being replaced by William Sutherland, who, although Scottish, had spent his entire police service south of the border, where he had been the divisional commander covering Guilford when the IRA pub bombings had taken place in 1974.
Sutherland held the top job for 13 years, and was in charge at the time of the infamous 'Fettesgate' break in, where an Edinburgh criminal entered the building through an insecure window and stole a number of sensitive documents.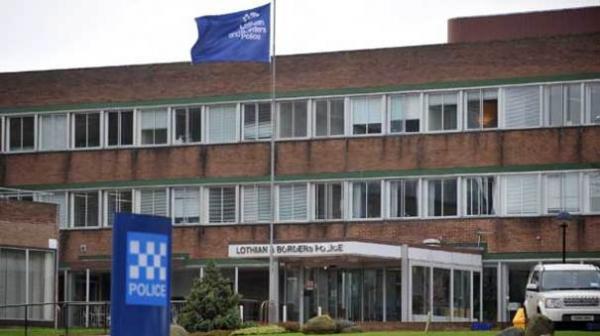 He retired in 1996 and was replaced by Roy Cameron, the Chief Constable of Dumfries and Galloway who had completed the majority of his service in Strathclyde.  He spent eight years in charge, before the police board once again looked to England for his replacement, appointing Paddy Tomkins from the Metropolitan Police.
Like Sutherland, Tomkins had also been involved in a major terrorist atrocity, being the first supervisor at the scene of the Brighton bombings on 1984. He spent five years at the helm, before moving to become Her Majesty's Chief Inspector of Constabulary for Scotland. His replacement was another Scot, David Strang who had also spent the majority of his service in England, but had previously been an assistant chief constable at Fettes before taking over at Dumfries and Galloway.
On day one, the authorised strength of the new Lothian and Borders Police was 2367 officers, making it the second largest force in Scotland, although that actual strength was 193 less than this and stood at 2174, of which 5.56% were female. (Currently there are 3066 of which 25.54% are female)
To demonstrate the forward thinking of the police service at the time, an early decision was made to allow female police officers to share the same mess room as their male colleagues, and also permitted them to wear trousers in inclement weather.
Every constable was issued with two pairs of trousers, two tunics, a ganex raincoat, two hats, two ties, one pair of epaulettes, a pair of leather gloves and a pair of white cotton gloves for points duty. They also received a standard police baton, a torch, a 'box key' which opened every police box in the city centre and a whistle to summon assistance.
The Force was divided into seven territorial divisions in addition to the Criminal Investigation Department, the Traffic Department and Headquarters. Four of the divisions were located within the city of Edinburgh whilst the other three covered East, Mid and West Lothian plus the Borders. This would change to six in the nineties then four in 2003, when the whole city became 'A' Divison.
In the first year, 97,277 crimes were reported to the police which was a 2.3% rise from the previous year, mainly attributed to minor thefts and malicious damage.  Last year the total crimes reported stood at 57,466, a drop of just under 40% and although there are differences in recording protocols, there is no doubt that crime has dropped significantly.
Another major success has been in the area of road safety. In 1975/6, 85 People were killed as a result of road accidents, which was a decrease of 20 from the previous year. Last year the figure had dropped to 21.
The vast majority of officers were uniformed beatmen and women, who paraded at the various police boxes throughout the city, and only visited the police station if they made an arrest, or for a meal break which lasted 45 minutes. These officers spent their time walking the city street with the stated objective to 'guard, watch and patrol to protect life and property, preserve order and apprehend offenders.'
The wages were poor and discipline was strict, with officers needing permission to marry or buy their own house, as it was felt at the time that most should live in local authority owned property alongside those they policed. Day shift started at 6am and anyone late for duty could be subject to disciplinary proceedings which potentially involved a reduction in pay.
During the night shift, officers were obliged to check all commercial property to ensure  security, and this meant checking the front and back of every shop. If a break in was discovered the following morning, the beatman would be telephoned and woken up at home and asked to explain when he last visited the premises so that detectives could narrow down when the crime took place.
All officers were trained nationally at the Scottish Police College at Tulliallan Castle and also locally at Fettes, where they learned the local bye-laws, and in particular the Edinburgh Corporation Order which dealt with such matters as beating carpets, women cleaning windows above a certain height, cutting hair as a business on a Sunday, putting buckets out too early and allowing your chimney to catch fire.
Known thieves found in suspicious circumstances were arrested under the Vagrancy Act of 1824 and held overnight at the Central Charge Office in the High Street.
Pubs opened from 11am till 2.30pm then 5pm till 10pm through the week, but only hotels were allowed to sell alcohol on a Sunday with a later opening time of 12.30; and only for bona-fide travellers ancillary to a meal.
Edinburgh is second only to London in the number of VIP attended events, and during its existence, Lothian and Borders Police officers have had to deal with numerous high profile visits to the capital, including two Papal visits, a European Summit Meeting, a Commonwealth Heads of Government Meeting and the G8 Summit which attracted the largest march ever seen in the capital under the banner of 'Make Poverty History.' Visits from Russian Presidents Mikhail Gorbachev and Vladimir Putin also instigated massive security operations.
Every year, members of the Royal Family stay at the Palace of Holyroodhouse and undertake public engagements throughout the country, while the Edinburgh Festival and Hogmanay celebrations have grown enormously over the years, requiring meticulous planning and high manpower commitments to ensure public safety.
Officers have had to police many demonstrations, including the large protests when the South African rugby team toured the country during the apartheid era of the seventies, and also during the building of Torness Nuclear Power Station when buses full of officers descended on East Lothian every day for months. The miners' strike was a particularly trying period for staff, many of whom had friends and family involved in the dispute.
In the early eighties, a heroin epidemic struck and Edinburgh gained the unenviable reputation as the drugs and Aids capital of Europe, with an estimated 1500 people hooked on the Class 'A' drug, as depicted in Irvine Welsh's book 'Trainspotting.'. As a result, Milestone House, a residential care home for people with HIV or Hepatitis C/B was opened in Oxgangs, and the late Princess Diana was a regular visitor.
Another institution which will come to an end on Monday will be the Lothian and Borders Police Pipe Band who have been performing since 1883, with some great success.
The band was probably at its best under Iain Mcleod in the early 1970s, recording back to back wins at the World Championships in 1971 and 1972 and also in 1975 when they won world title at Corby, Northamptonshire, narrowly beating Muirhead & Sons Pipe Band from Grangemouth.
On a sporting note, the force successfully policed the 1986 Commonwealth Games at Meadowbank, and the open topped bus parades following Hearts' three Scottish Cup wins and Hibs two Scottish League Cup wins. Unfortunately many other planned parades were cancelled at the last minute following Hampden defeats. Scotland have won two Grand Slams in that period, and Murrayfield has hosted a World Cup semi-final and also the World Sevens. Several Edinburgh Marathons have also passed without incident.
Music legends such as Elton John, Oasis and Madonna have played to packed stadiums at Murrayfield and Easter Road, and one of the most unusual events involved the arrival of Tian Tian and Yang Guang (the giant pandas) to Edinburgh Zoo in December 2011. The eyes and ears of the world were focused on the Capital; with over one billion people watching as police motorcycles escorted the lorry carrying the animals from Edinburgh Airport to their new home at Edinburgh Zoo.
As technology improved, a new purpose-built, state-of-the-art Force Communications Centre was built  in Bilston Midlothian, and this facility currently handles over one million telephone calls, including about 140,000 999s each year.
Sadly, the force has witnessed many high profile murders, including the infamous World's End case which took place in 1977 and which remarkably is still on-going, whilst the abduction and murder of five year old Caroline Hogg in 1983 still holds painful memories for everyone involved.
Others include the murder of three soldiers during a payroll robbery in 1985, the abduction and murder Vicky Hamilton in 1990, the murder of grandfather David Dunn during a bank robbery in Bonnyrigg in 1994, the murder of Dalkeith schoolgirl Jodi Jones ten years later and many others.
Although the vast majority of murders have been solved, Lothian and Borders will hand over a few investigations to Police Scotland's new cold case unit,  including the murders of Sheila Anderson in Granton in 1983, Ralph McIntosh in Gullane in 1984, Ann Ballantyne in Edinburgh in 1987, baby Craig Millar in 1991 and Edinburgh publican Billy Sibbald on 2002. None of these cases are closed and detectives remain hopeful that with the advances in DNA testing, the culprits will be brought to justice.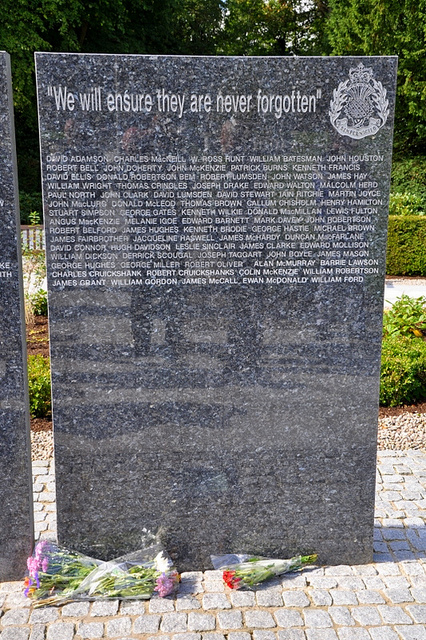 Thousands of officers have worn the Lothian and Borders Police uniform, many for the full thirty years, but a few tragically died in service before completing their 'tour of duty.'
These include PC Jack Harvey who was fatally injured on 5 December 1981, when his police patrol car crashed into a wall, PC David Adamson who  died 28 February 1983 in a road accident on route to collect urgent medical samples, Sergeant Robert Lumsden who collapsed and  died 8 August 1986 during a violent struggle with a man while on patrol, PCs Martin Joyce and Ian Gray who died 10 April 1990 in a road accident, PC Karen Balfour who died 5 January 2006 following a road accident, PC Alan McMurray who died 4 February 2006, when struck by a passing van while assisting at an accident scene, PC David  McPherson who died 23 February 2011 of a brain haemorrhage suffered while returning home from duty and PC Stephen Cully who died 9 September 2011, of heart failure whilst at the Scottish Police College, Tulliallan.
All of these officers are sorely missed by family and colleagues alike and their details are recorded on the Police Memorial at Tulliallan, which carries the names of all Scottish police officers to have died in the line of duty. The walls of the memorial are engraved with names reaching as far back as 1770, in a fitting tribute to the price that officers have paid for protecting society.
The new Chief Constable of Police Scotland will be Stephen House who transferred from the Metropolitan Police to Strathclyde in 2007, and a number of former Lothian and Borders officers will be part of the new force executive. Deputy Chief Constable Neil Richardson will be his designated deputy, DCC Iain Livingstone will be responsible for Crime and Operational Support, and DCC Steve Allan will be responsible for the Commonwealth Games. Assistant Chief Constable Mike McCormick has responsibility for local policing (East) and ACC Malcolm Graham will be in charge of serious crime and public protection. The executive will be based at the new headquarters in Stirling.
Uniforms, equipment and logos will change, but the one constant in the new force is the dedication of the men and women of the Scottish Police Service who have sworn an oath to serve the public to the best of their ability.
Elsewhere
On 16 May 1975, Mud were top of the charts with 'Oh Boy' a cover version of Buddy Holly's hit having replaced  Edinburgh group, The Bay City Rollers at number one spot with the bestselling single of the year Bye Bye Baby. They would be replaced the next day by Tammy Wynette's 'Stand by your Man.
Rangers had just won the Scottish League Division One ending Celtic's world record sequence of nine titles in a row after a one all draw against Hibs at Easter Road.
Hibs, who were celebrating their centenary year, finished second, seven points behind the Ibrox team while Edinburgh's other club Hearts finished eighth with 35 points. Morton and Arbroath were relegated and Celtic won both the League Cup and the Scottish Cup.
The Scottish football team lost 5-1 at Wembley, whilst the Scottish Rugby team were in the middle of their tour of New Zealand, winning four games and losing three, including a 24-0 loss to the All Blacks.
Muhammad Ali retained his world championship belt with a technical knockout against Ron Lyle in the eleventh round.
A Labour government was in power and Jim Callaghan was Prime Minister. Margaret Thatcher took over from Ted Heath as the leader of the opposition to become the first woman in that role, although she never wore trousers, even in inclement weather.