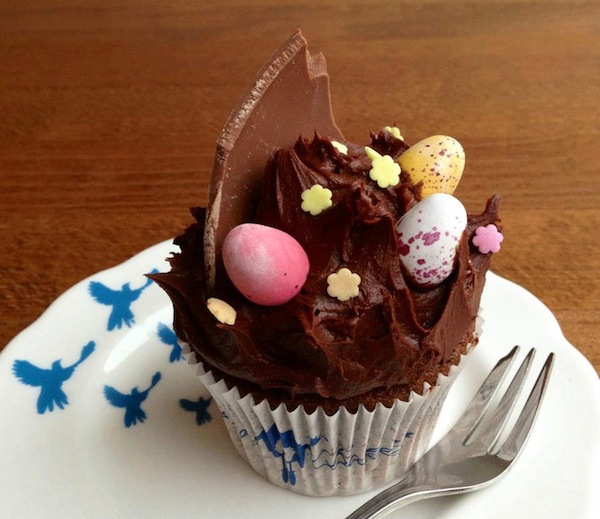 A baker behind some of Edinburgh's quirkiest cupcakes is set to crack her 70,000th  egg as she prepares to bake up a storm this Easter.
Suzanne Burns, who is the head baker at Cuckoo's Bakery on Dundas Street, will reach the cracking milestone after working at the bakery for two years, cooking up a variety of cupcake creations which include Creme Egg and Lemon and Strawberry Cheesecake.
During a busy day in the kitchen starting at 2am Suzanne can crack up to 180 eggs, which all go into the mixing pot to create over 700 handmade and individually designed cupcakes for sweet toothed customers every day.
Suzanne, said: "It's almost unbelievable to think that I have cracked so many eggs since starting working here – especially when you think of the amount of chickens it would have taken to lay them!
"You don't really think too much about the ingredients which go into your cupcakes and many people forget that there is so much involved. For everyone here at Cuckoo's it is important to get the right balance and quality of ingredients which is why all our eggs are free range and locally sourced.
"Eggs are one of the main ingredients of our cupcakes, but they are also used for a whole host of other treats on our menu such as our delicious layer cakes, scones and even our homemade pastry items – you can certainly get a lot of a humble egg.
"The number of eggs we go through is incredible and a real testament to the strength and popularity of the bakery, thanks to our quirky flavours, quality baking and of course stellar service from the front of house team."
Suzanne, who is originally from Limerick in Ireland, has been working at Cuckoo's Bakery for the past two years. She had her first job in a bakery at the age of 16, before going on to work in different industries but her interest and talent for baking was prominent and she went back to her baking roots taking up the position at Cuckoo's Bakery two years ago.
But Suzanne says it's all worth it though: "The early starts can sometimes be hard but it's definitely worth it knowing that each and every one of the cakes we sell is freshly and handmade every day.
"As the old cliché goes it's a tough job but someone has to do it and I for one don't mind especially when it comes to the taste testing!"
All of the eggs used at Cuckoo's Bakery are free range and are sourced locally from Dalkeith and wherever possible the bakery uses local products when making their cupcakes.
Graham Savage owner of Cuckoo's Bakery said: "The quality of our ingredients is important to use, which is why we use locally sourced ingredients whenever we can. As well as the free range eggs we use Scottish butter and flour milled in Fife.
"We believe that knowing where our ingredients have come from adds to the quality of the cupcakes we make."
The 70,000th egg will be used to bake an eggstravaganza of Easter treats including flavours such as; Creme Egg, Coconut and Lime, Caramel Egg Hunt, Sticky Toffee Apple, Eggsplosion and Lemon and Strawberry Cheesecake.
Cuckoo's Easter cupcakes start at £2.70 each with gift boxes from £19.50 and are available until Sunday 31st March from 150 Dundas Street. Advance orders can be placed online at www.cuckoosbakery.co.uk or over the phone on 0131 556 6224. Delivery is available for orders of a minimum of six cupcakes within the Edinburgh city bypass.
To find out more about Cuckoo's Bakery visit http://www.cuckoosbakery.co.uk