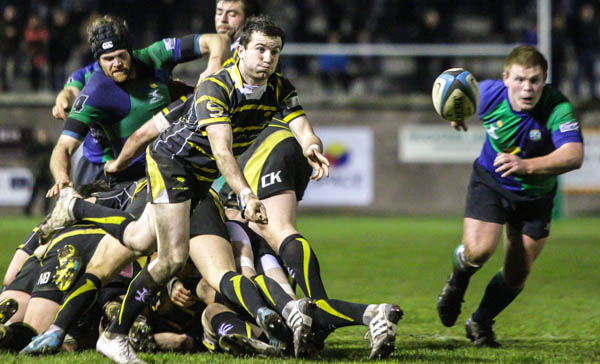 This week The Reporter highlights a poor weekend for the Capital's rugby teams and concentrates on the mixed fortunes for Hibs and Hearts, both on and off the field. We also send our best wishes to Craig Gordon who revealed that he may have to stop playing due to a long term injury.
Congratulations go to Edinburgh boxer Stephen Simmons and diver Grace Reid for their respective achievements, and also to the Edinburgh Capitals for a fantastic 8-2 victory over Dundee Stars at Murrayfield Ice Rink.
Rugby  by John Preece
Biggest news of the week was the demise of Edinburgh Rugby's head and defence coaches. Defence coach, Billy McGinty, choose to fall on his sword and leaves with immediate effect, whilst Head Coach, Michael Bradley, will remain until the season end, but will not have his contract renewed.
The Reporter speculated on the coach's future after the Glasgow match in December, but it's never a good thing to see people sacked or fail to have contracts renewed. However, to paraphrase one player, 'Few of us have performed as expected, but it must be simpler to sack one person than 45!'
It could also be said that Edinburgh had rarely played better than when they were under the tutelage of Andy Robinson – yes, they reached the Heineken Cup Semi-final last season, but they were hammered almost everywhere else – however, that door, if it were ever open, has now been firmly closed with Robinson about to sign on as Bristol Rugby's Director of Rugby in the English Championship.
Ironically, Edinburgh put in their best performance for a long while in Friday night's match against Cardiff. Going down 17-16 to the Welsh side, Edinburgh showed what they are capable of, dominating the scrum and had most of the second half territory and possession. Edinburgh were leading with 15 minutes to go, but a penalty sealed the victory for Cardiff, the hosts not being able to break through in the remaining time in spite of wave after wave of assaults on the visitor's line.
Club rugby didn't fair any better. In the RBS Premiership Division all four Edinburgh clubs lost their matches. Edinburgh Accies and Heriots lost away to Ayr and Aberdeen Grammar respectively and Boroughmuir and Currie both lost at home to Melrose and Stirling County. In the RBS National League, Stewarts-Melville and Watsonians lost away to Glasgow Hawks and Biggar in their respective matches. And, finally in RBS Championship League B, Murrayfield Wanderers lost to Howe of Fife. Indeed, one has to go all the way to RBS East League Division 1 to find a win. That was from RHC Cougars at home against Berwick. Well done that team!
However, not really a great weekend for Edinburgh's rugby teams at any sort of level.
(Photo, John Preece – library, Boroughmuir v Melrose 2011-12 season).
Football
Hibs started the week with a disappointing performance and result against St Johnstone, losing 3-1 to the Perth side at Easter Road last Monday. The Saints took a 3 goal lead, which would have been worse but for a penalty save from Ben Williams, before Leigh Griffiths hit a late consolation goal. This result saw St Johnstone leapfrog Hibs into fourth place, whilst Aberdeen's Friday night victory over Dundee saw Pat Fenlon's men drop to sixth.
On Saturday, Hibs travelled to Paisley, without injured Tim Clancy and suspended Gary Deegan, knowing that depending on other results, they could have ended the day as low as ninth or as high as third, but a second half Leigh Griffiths' penalty was enough to secure a valuable three points against Danny Lennon's St Mirren. The win moves Pat Fenlon's men into fourth position in the SPL.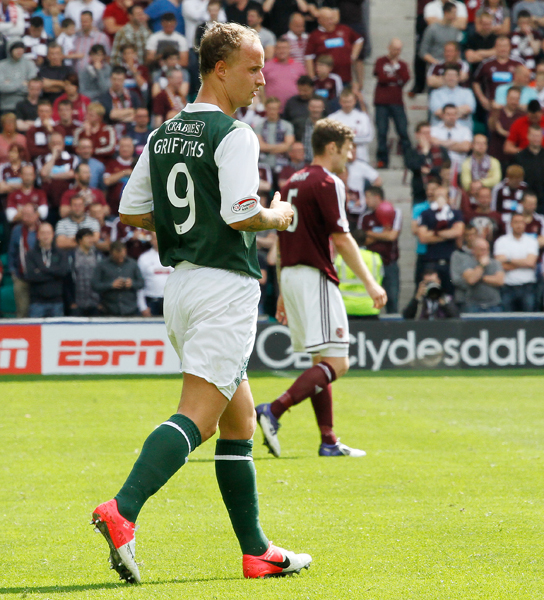 Hearts announced that influential skipper Marius Zaliukas may have played his last game for the club. The Lithuanian defender suffered serious ligament damage last weekend against Dundee United and his contract is due to expire in the summer.
Off the field, confusion surrounds what the effect on Hearts and Tynecastle Stadium in particular will be following the announcement that UKIO Banka's, the Lithuanian bank mainly owned by Vladimir Romanov had been placed into temporary administration.  Hearts issued a statement stressing that they were owned by UBIG, who now operate independently from Ukio Banka's, and Director Sergejus Fedotovas said: "We believe that today's events in Lithuania will have very little effect on our day-to-day business." It is understood however that UBIG's floating charge over Tynecastle and the land around it had been transferred to Ukio Banka's in December. This charge secures the stadium against debts of £6.8m.
On Saturday, Mr Fedotovas stated that discussions are on-going with a number of parties who are interested in buying the club, although this is unlikely to occur before the end of the season or the start of the new financial year.
On the field, a Paul Heffernan hat-trick gave Kilmarnock a comfortable 3-0 win over a young Hearts side at Tynecastle in front of 14,280 fans. Influential midfielder Darren Barr was stretchered off in the first half after a clash of heads with team-mate Danny Wilson. The defeat sees Hearts remain in 10th spot.
On a sad note, former Hearts and Scotland goalkeeper Craig Gordon has claimed that persistent injury problems could threaten his playing career.  The announcement came on the Dumbarton FC's website after the Edinburgh born keeper teamed up with former rival Ian Murray at the first division club. He said: "It's very unlikely I will be playing again this season, "I'm not ruling out playing again, but I need things in place if the news isn't good. In fact, I'm not sure if I'll play again, so I'm looking to get into coaching as I want to remain in the game."
The thirty year old began his career at Hearts before moving to Sunderland for £9m in 2007 to make him the most expensive goalkeeper in British football, however, a knee injury midway through his second season left him side-lined for several months. On his return to first team action, he suffered a broken arm and was released by Sunderland in May last year.  He has 40 caps for Scotland.
In the Central Taxis East of Scotland Premier League, Spartans retained top spot with an emphatic 4-0 win over Edinburgh University at Peffermill.  Three goals in a sensational five minute period gave the visitors a comfortable half time lead. Malt and Hops man of the match Keith McLeod headed a corner into the path of Kevin Motion who volleyed in the opener, before McLeod added a second from the penalty spot, and Motion scored the third to effectively end the game as a contest. The students played better in the second half but were unable to penetrate the Spartans defence. Substitute Sean Wringe completed the scoring with the last kick of the game. Both clubs meet again in two weeks' time in the Kings Cup.
Elsewhere Heriot Watt drew 1-1 with Gretna at Riccarton, whilst Tynecastle lost 2-1 to Edinburgh City and Civil Service Strollers went down 3-1 to Whitehill Welfare.
In the First Division, Leith Athletic beat Selkirk 2 6-1 thanks to goals from Kenny Hall, Neil Lowson, Jack Combe, Lachlan Thom Stephen Barrie and Lewis Tracey at Ainslie Park, whilst Craigroyston lost 3-1 to Peebles Rovers.
Earlier in the week, goals from Kohei Habata, Shawn McMaster and Jack Beacher saw Edinburgh University beat Stirling University 3-1 to reach the semi-finals of the British Universities Football Trophy where they will meet either Leeds Metropolitan University or Cambridge University in a fortnight's time.
Ice Hockey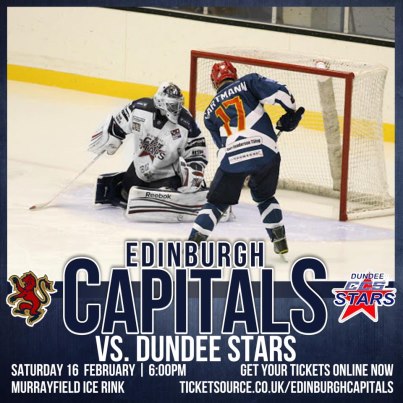 Edinburgh Capitals started the weekend off in style with a fantastic 8-2 victory over Dundee Stars at Murrayfield Ice Rink on Saturday night. Goals from Steel, Hartmann (2) Patry, Leinweber, Holecko, and Jarolin (2) secured the points in a game described by many fans as being the Capitals best performance this season.
The following evening however the Caps travelled to the Midlands and lost narrowly 3-2 to Coventry Blaze.
Boxing
Edinburgh Cruiserweight boxer Stephen Simmons beat Serbian Jovan Kaludjerovic with a second round knockout at the Gorbals Leisure Centre in Glasgow on Saturday night. The 28 year old former Commonwealth bronze medallist has been training in Lanzarote in preparation for the fight which he hopes will be a stepping stone to a potential British or Commonwealth title by the end of the year.
Basketball
The City of Edinburgh Kings beat Stirling Knights 107-63 on Friday night at The Peak, to maintain top spot in the Senior Men's League, with 31 points from 16 games.
The Kool Kats women's team lost their chance to go top of the league after a 72-80 defeat to Glasgow Rocks at Portobello High School. The Kats currently sit second on points difference to Polonia Phoenix with 25 points from 14 games.
Indoor Bowls
Bainfield maintained an Edinburgh presence in the indoor bowls Scottish Cup comfortably beating Kilmarnock club Galleon 110-59 in their first round proper clash at Glasgow IBC.
Cycling
Edinburgh cyclist Evan Oliphant launched his 2013 racing programme in an eight-man squad representing Team Raleigh at the Tour du Haut Var, a race contested over mountainous terrain inland from the Cote d'Azur.  He finished 131st in Saturday's opener which covered 153 kilometres from Le Cannet des Maures to La Croix Valmer, but did not finish Sunday's stage which was a gruelling 207-kilometre haul starting and finishing in Draguignan.
Oliphant lined up against former Tour de France yellow jersey Thomas Voeckler of Team Europcar and David Millar of Garmin-Sharp, who was a Scotland team mate at the 2010 Commonwealth Games in Delhi.
Stage one was won by Thor Hudhovd, whilst stage two was won by Lars Boom.
Four cyclists from the City of Edinburgh club, Callum Skinner, the current British senior champion, John Paul, who holds the Scottish title, Commonwealth Games silver medallist Charline Joiner and Katie Archibald will receive financial assistance to support their career development after being named on a list of 11 riders partially funded by the Braveheart Cycling Fund charity.
The four will be given help towards the cost of travel to train and race as they build up to next year's Commonwealth Games in Glasgow.
Edinburgh born stunt cyclist Danny MacAskill is set to take part in the Red Bull Chasers Event on 30 March which will be held on the Grassmarket. Capital based cycling pros Scott McMorris, Dave Henderson and Gareth Montgomerie will also attend along with world-renowned riders Michal Prokop and Jack Pullar.
500 amateur racers will take part in timed hill sprints and the fastest 30 riders will go up against the UK's most elite cyclists in a bid to be crowned Red Bull Hill Chasers 2013 "King of the Hill".
To register for a place in the event, visit www.redbull.co.uk/hillchasers by midnight on March 22.
Diving
Tom Daley will take part in the FINA/Midea Diving World Series at the Royal Commonwealth Pool between April 19-21. The event will see several of the world's best divers taking part in the 3m, 10m, 3m synchro and 10m synchro.  Tickets are now on sale at £10/12 and £8/10 for concessions.
Grace Reid the 16 year old Edinburgh diver took gold in the 3m springboard and bronze in the 1m springboard at the 
British Gas Diving Championships in Plymouth. She is in contention for a slot at the FNA World Championships, which will be held between July and August in Barcelona.
In addition, Grace is keen to target success at the European Juniors, although she has plenty tournaments to compete in before that event.
Volleyball
There was no Division 1 volleyball this weekend.
In the Schelde Women's National League Division 2, Edinburgh Jets lost 3-2 to Kyle Team Ayrshire, 26-24 24-26 21-25 28-26 11-15.
In the Schelde Men's National League Division 2, Edinburgh Jets II lost 3-0 to Beacon, whilst Jets III lost 3-0 to NUVOC 23-25 17-25 22-25.
.