Hard Rock Cafe's Hard Rock Rising, Global Battle of the Bands, started on Monday, and all involved agree that the standard of bands was immense.
Monday's heat allowed The Goodyear, Creations Collide and Jim 'n the Crickets to rock it out for a place in next Wednesday's final.  The three piece band Jim n the Crickets won through in the end but the other bands went away with high praise from the judges who includ Forth One's Paula Whitelock and Mark Martin.
Monday's Winners Jim n the Crickets with the Judges: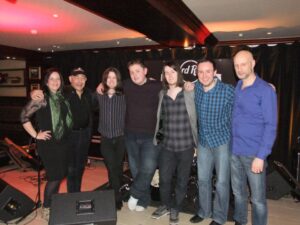 Three more acts appeared on Tuesday, Sergio Sergio, GutterGodz and Jamie and Shoony. This time I was a judge alongside Paula and Mark and it was a very tight decision which all the judges (including myself) deliberated over for quite some time.  Eventually Guttergodz made it through to the final with high praise again from the judges for the other bands.
Tuesday's Winners GutterGodz with the judges (wish i'd done my hair and make-up for this one)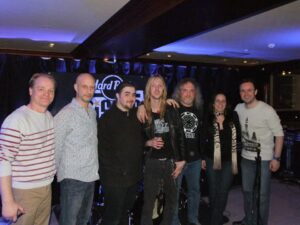 (That's our Barry on the left folks… Ed)
Heat three takes place next Tuesday and then the final itself will be run on Wednesday at the Hard Rock Cafe in George Street.  To add to the evening the final will include Judges from one of THE biggest Scottish bands ever……who is it……well you will have to go along and see for yourself!
Entry is free both nights and if the previous heats are anything to go by, you are in for a real treat next week so pop along for a great night's entertainment.
Here are interviews with the bands from the first heats:-
Hard Rock Rising Interviews by Basher1969 on Mixcloud