The City Cafe homemade burgers are the core of their diner-style menu (along with some ginormous breakfasts!) and with their Ultimate Burger Challenge, Head Chef, John McKendrick, plans to take them to the next level for 203.
"We've had people visit from far-off cities and even different countries to eat our take on stateside diner food, and with the Ultimate Burger Challenge, we hope to stick in their memories even more. Edinburgh loves high quality, homemade burgers, and this is going to be quite the challenge – I don't think even I could eat a whole burger alone!"
The burger in question will be handmade from 7 City Cafe menu burgers, including 3 prime beef, 2 marinated chicken fillet and 2 spicy bean, topped with a mountain of toppings, nestled within a specifically designed bun and served with a large portion of gourmet fries and creamy coleslaw.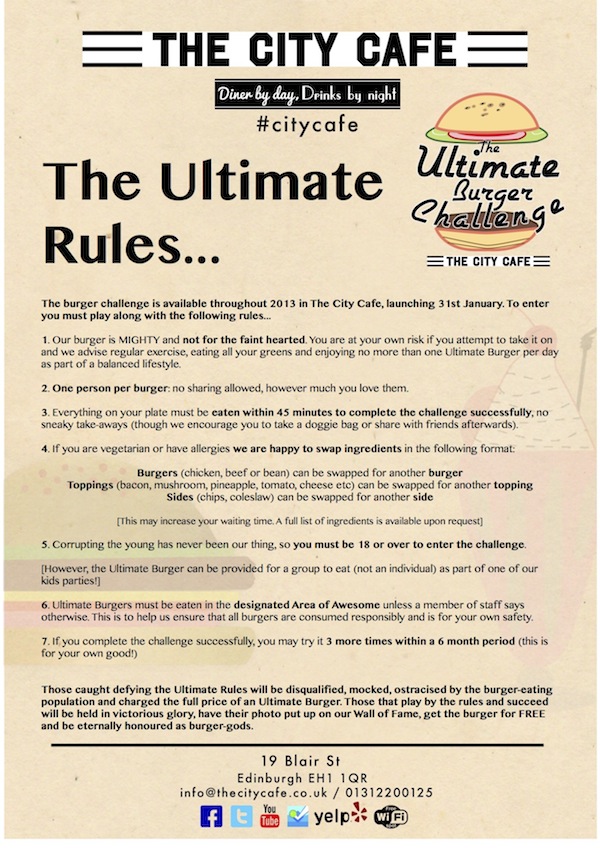 Challengers have a limited time period to finish all of the burger – if they rise to the challenge and succeed they win a certificate, commemorative place on the City Cafe Wall of Fame, champions t-shirt and best of all, the burger is free of charge. If they fail, they must pay the price of the Ultimate Burger (£30.00), but will be awarded a consolatory small City Cafe Classic Milkshake to soften the blow.
"We're very excited about starting the Ultimate Burger Challenge in February – I think some of our regulars are eyeing up a spot on our Mighty Wall of Fame. 
It's going to be great for a night out or parties… we've even had sports teams contact us about it already!"  Lauren Donachie, The City Cafe Manager
The Ultimate Burger Challenge will run from 1st February throughout all of 2013, with The City Cafe inviting press and public to their Ultimate Burger Challenge Launch Party on Thursday 31st January 2013. Details are below
Tonight individuals will be invited to go head to head to take on the meaty monster, as well as sample The City Cafe's new Stateside Cocktails menu and enjoy back to back live music from the $5 SHAKE DJs. The City Cafe will also be opening its doors to groups or teams who want to go head to head in the Ultimate Burger Challenge – inviting everyone from local rugby teams to swing dance troops to have a go.
To find out exclusive news and receive an invite to the Ultimate Burger Challenge Launch Night you can sign up to the City Cafe mailing list at http://www.thecitycafe.co.uk/join-the-club/ or tweet @thecitycafe with the #ultimateburger hashtag.  The City Cafe will also be running monthly competitions in-store for a chance to win two Ultimate Burgers Challenges and Gourmet Homemade Milkshakes every month (see below for details).
You can see a preview of the challenge burger at www.thecitycafe.co.uk/burgerchallenge
The City Cafe Ultimate Burger Challenge will be running throughout 2013, booking recommended. 
The City Cafe Ultimate Burger Challenge Launch Party

Thursday 31st January 2013 from 7pm onwards

Sample Edinburgh's Largest Burger
Watch Head to Heads of the Burger Challenge
Take on the Ultimate Burger Challenge for 25% off the normal price (£22.50 instead of £30)
Live Music all night
Acacity in City 2
Samples of the new stateside cocktails menu

RSVP at http://bit.ly/U4xdal

Or email info@thecitycafe.co.uk