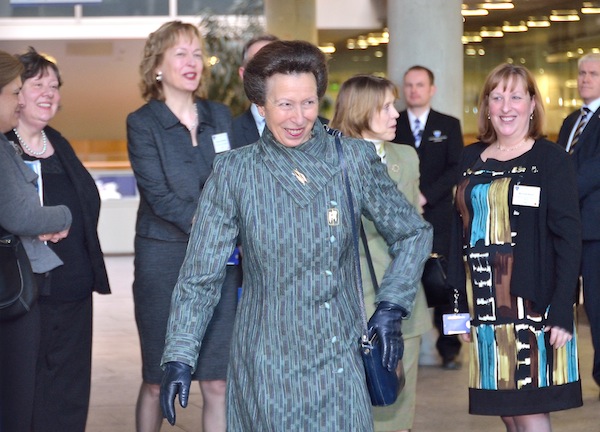 The Princess Royal's visit marks 75 years of Occupational Therapy education in Scotland
Today, Her Royal Highness The Princess Royal visited Queen Margaret University (QMU), Edinburgh for an official visit which marked 75 years of occupational therapy education in Scotland. The event celebrated the contribution made by occupational therapists to service users and clients, communities, organisations, and society.
The Princess Royal has been Patron of the College of Occupational Therapists, the UK's professional body for occupational therapists, since 1987. The celebratory event was hosted by both the College of Occupational Therapists and Queen Margaret University, the latter educates individuals for a career in the profession.
The Princess Royal met the University's undergraduate and postgraduate occupational therapy students. Graduates and staff who have made a significant contribution to the profession and to the development of occupational therapy locally, nationally and internationally also took part. The Princess Royal officially opened the Occupational Performance Room which is a simulated space for students to practice the skills of active daily living, before meeting University researchers who showed her some of their innovative developments and demonstrate their impact on services.
Linda Renton, Professional Lead in Occupational Therapy at Queen Margaret University, explained:- "Occupational therapists have been educated in Edinburgh since 1937 and since then, Scotland has been at the forefront of the profession's education and practice. We are looking forward to sharing information about the history of occupational therapy in Scotland, paying tribute to the pioneering women responsible for the profession's development and to celebrating their legacy of education. We are also delighted that our current students and researchers will have the opportunity to share some of their learning techniques, practice methods and cutting edge research outcomes with the Princess Royal."
Julia Scott, Chief Executive of the College of Occupational Therapists, said:- "We are delighted that The Princess Royal continues to take such an active interest in the development of the profession and that she is able join us today to celebrate the progress which has taken place in Scotland over the years. QMU is an exemplar educator and its staff have spent many years, developing, nurturing and preparing students to excel in their new career, and become the future leaders of our profession. Their contribution to occupational therapy education and its workforce has been outstanding."
Professor Emeritus Averil Stewart, the first Professor of Occupational Therapy in the UK and former Head of Occupational Therapy at Queen Margaret University, presented the first inaugural Professor Stewart International Award to QMU occupational therapy graduate, Rocco Angarolo.
A range of Scottish educationalists; MSPs and local policy makers and influencers; university and college representatives, partners and supporters; and students, staff and graduates joined the Princess Royal at the celebration. A reception, involving 250 people, concluded the visit.