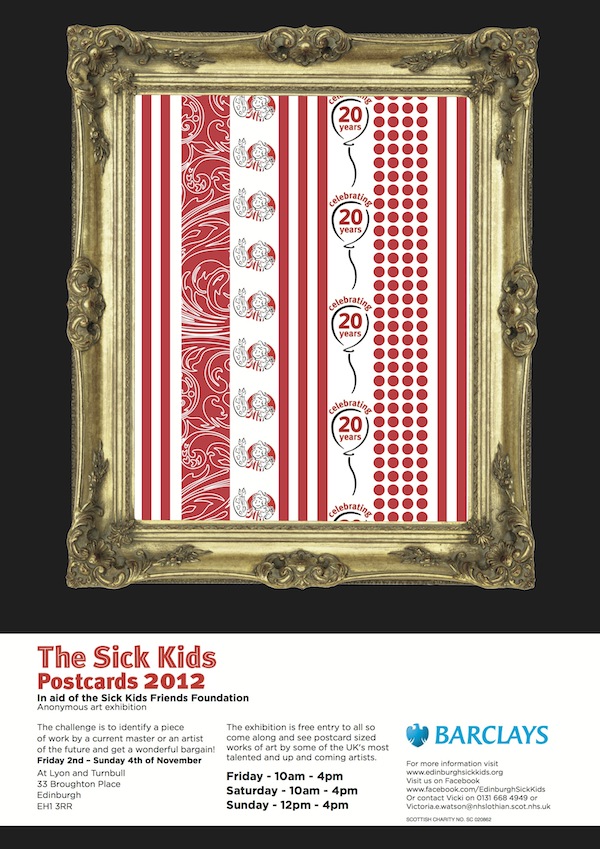 This weekend, the Sick Kids Friends Foundation Postcard exhibition will take place at Lyon and Turnbull Auctioneers at 33 Broughton Place.
This is one of the Foundation's most prestigious events, and is held every two years. Many leading and up and coming artists from across the UK contribute works of art on postcard sized boards which are then exhibited anonymously. The challenge for visitors is to identify a piece of work by a current master or an artist of the future and potentially snag a great bargain!
The event has been running since 1999, and during that time has featured many outstanding artist contributions, including Dame Elizabeth Blackaddar, Quentin Blake and Mary Fedden.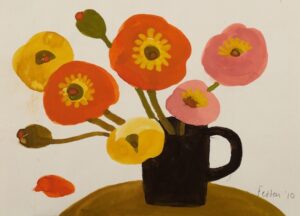 Sadly, Mary who regularly contributed to the event, passed away earlier this year in London, aged 96, and as a small tribute, some of her outstanding work will be exhibited, although will not be for sale.
After last year's event, the Foundation pledged that the funds raised would be used to fund Artists in Residence at the hospital, and since then, short term residencies have been based  in A & E, the wards, the Playrooms, the Plaster room, Outpatients, Physio and Occupational Therapy and Children and Adolescent Mental Health Services. The artists, who are skilled in sculpture, music and dance, design, photography, colour and texture and new technology have worked with the  children to create new art in the hospital and proposals for inclusion in designs of the new hospital.
In June 2012 they were joined by Writer in Residence Linda Cracknell who is spending time by bedsides, in wards and waiting rooms throughout the hospital 'playing with words'. Linda plans to develop emerging themes and the Foundation is currently seeking an illustrator to work alongside her. This arts programme, KreativkidS will bring opportunities for creativity to every corner of the hospital.
This year sees the 20th Anniversary of the founding of the Sick Kids Friends Foundation, and during that time they have provided extra innovation and support for children in the Royal Hospital for Sick Children and other healthcare centres in the East of Scotland.
This year the foundation purchased state of the art medical equipment, provided extra support for families, specialist research and training and a huge range of comforts and treats for the children.
The exhibition runs from tomorrow until Sunday and is free to all. The opening times are as follows:
Friday 2nd November from 10am – 4pm
Saturday 3rd November from 10am – 4pm
Sunday 21st November from 12 noon – 4pm
Anyone wishing to contribute to this charity can do so at
http://www.edinburghsickkids.org/donate.html