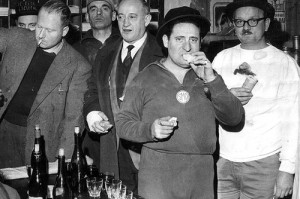 The Beaujolais nouveau arrives! A big event that Le Bistrot de l'Institut celebrates by throwing a fanstastic food and wines party.
Every year on the third Thursday of November, tradition has it that we open the first bottles of Beaujolais nouveau, the most popular 'vin de primeur' that has just fermented for a few weeks.
On this third Thursday of November, 15 November 2012, and for one evening only, Le Bistrot sports the colours of Beaujolais and serves a selection of specialties from the region to tickle your taste buds while you are enjoying the new wine.
For the sake of comparison, a larger selection of older Beaujolais wines will also be available!
Menu du Beaujolais
£13 (£12 for members)
1 glass of Beaujolais (12,5 cl)
– 1 caillette (pork parcel)
– All-you-can-eat Buffet du Beaujolais (charcuteries, salads)
Thursday 15 November 2012 from 7.00 pm
Le Bistrot de l'Institut francais d'Ecosse
13 Randolph crescent, Edinburgh EH3 7TT
Advanced booking is not essential but if you would like to reserve a table, please call the box office at 0131 225 5366.
Submitted by Vanessa