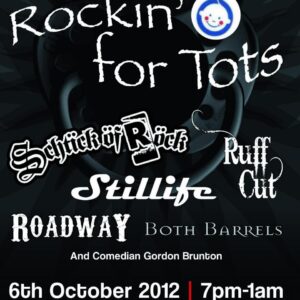 There will be a fundraiser tomorrow evening for Simpson's Special Baby Care Unit at the Edinburgh Royal Infirmary.
The fundraiser has been organised by husband and wife, Andy and Gill Cowe, after the devastating loss of their  twin daughters in 2000 at 36 weeks due to acute twin to twin transfusion syndrome.
They explained:- "This was a truly devastating experience, but as a way of dealing with our loss we decided to hold a fundraiser in their memory in aid of Simpsons Special Care Babies. In 2001 we held the "Heavy Natal" a rock night at the Corn Exchange in Haddington. Through the rock night, raffle and auction we raised £8,400 which was put towards the purchase of an EEG machine (brain scan) for use on premature babies in the Neo Natal Unit. In 2005 we held "Rockin for Tots" at The Exchange in Grove Street, Edinburgh.
This time of course we had our son and daughter so organising was a little more difficult but through the rock night, raffle and auction we raised £6,500.  The money raised was put towards the purchase of a ventilator.  The auction was a great success with us having received several signed items from various people including the Stereophonics. We purchased an Iron Maiden biography for £9.99 and had Paul Dianno sign it. We then approached Rod Smallwood and got the book to go on tour with them until all band members could sign it. This was then auctioned on Ebay and raised £107!!!
We had been thinking for a while now about holding another fundraiser at some point in time, but due to our friend Christine losing her grandson recently we felt it was time.   We enjoy organising these events and hope that folks that attend have a really good time. If we can help with the survival of even one baby, then we have done what we set out to do.  So, now it is time for some work in sourcing items for an online auction and raffle for another rock night.
Venue and bands all now confirmed and as follows:
DATE: 6 October 2012
VENUE: Debating Hall at Teviot Row, Edinburgh
BANDS: STILLIFE Formed in 2000, Stillife have supported bands from Nazareth to Staind in venues like Glasgow Barrowlands and Perth Concert Hall, played the T-Break showcases, appeared in Kerrang magazine and on Radio 1 until they went their separate ways to take up different projects in 2009.
ROADWAY ROADWAY are an energetic and honest rock band who are here to simply put on a great show, have fun and take the audience with them on their journey through their material.
SCHTICK OF ROCK Bursting with talent, oozing charisma and electrifying energy, Schtïck öf Röck deliver a hit filled, singalong set list that will leave your vocal cords in tatters for days… In this one amazing show, you'll hear the greatest hits of Ozzy, Journey, AC/DC, Whitesnake, Def Leppard, Bon Jovi and many many more.
RUFF CUT BLUES BAND Borders based Blues/Rock band – a superb talent!
BOTH BARRELS a 4-piece hard rock band from Dunfermline, Fife with influences from Alice In Chains, GnR, Metallica and Alter Bridge. Both Barrels were runners up in the Edinburgh final of Hard Rock Rising Competition for 2012
Comedy entertainment will be provided by Edinburgh's very own Gordon Brunton, Fringe performer for the last 17 years, veteran of 4 Fringe shows, 2 national tours, various TV and radio appearances and also appeared with Jo Brand, Kevin Bridges, Bill Bailey, Ewan McGregor and Captain James T Kirk himself, William Shatner.
So get a ticket before they sell out you can purchase here:-
http://www.eusa.ed.ac.uk/ents/event/1604/?skin=eusalive&template=event or buy on the door on the night raising money for a great cause all that entertainment for a tenner.
To find out more go to: www.rockinfortots.co.uk