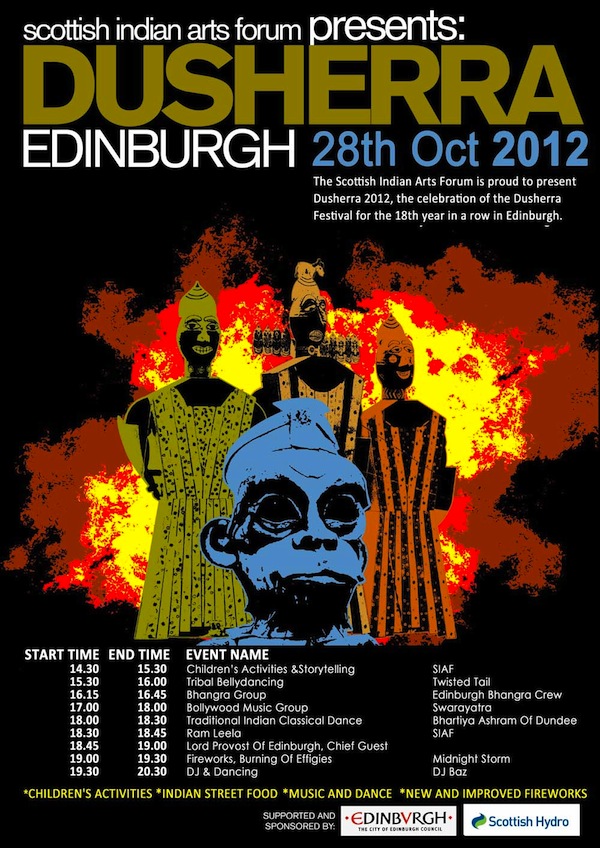 There will be fireworks on Calton Hill this Sunday evening at 7pm.
Dusherra will be celebrated for the 18th year running in Edinburgh on the 28th October 2012. Scottish Indian Arts Forum (SIAF) is grateful for the sponsorship and support of The City of Edinburgh Council and Scottish Hydro for this years' event.  The organisers say  that they are proud that they have managed to keep the festival free for its visitors.
Dusherra 2011 was a change to the format from previous years with the focus shifting from a "low engagement" parade based format to a higher engagement "day out" format incorporating children's events, music and dance, food and stalls. In addition there will be fireworks and the traditional burning of the effigies of the demons signifying the victory of good over evil. The changed format last year proved very popular with the community and people coming along to the festival, prompting the organisers to stick with the new 'day-out' formula for 2012 and the foreseeable future.
Dusherra 2012 consolidates the new format on Calton Hill, with an exhibition of electric vehicles from the Scottish Hydro, a rich music, dance and theatre section as well as an expanded fireworks display by the new fireworks partner Midnight Storm.
Activities will include:-

Dusherra Educational Workshops which will focus on story-telling, arts and crafts activities including mask making, a Bollywood dance workshop for children, and facepainting

Dusherra Cultural Programme which has been designed to have a combination of Scottish and Indian music and dance forms

Twisted Tails who are Edinburgh's favourite tribal belly dancing group and are back for Dusherra by popular demand. They performed for the first time at last year's festival and put on a fantastic display in their brilliant outfits. They are back again this year with a new routine.

Edinburgh Bhangra Crew who are fast becoming one of the favorite Indian performing troupes with a focus on foot-tapping beats on the Dhol drums and dance to present the ever popular Bhangra format in Edinburgh.

Swar Yatra is a bollywood music group based in Edinburgh, with a unique combination of vocals, guitar and the Indian percussion instrument Tabla. Having previously performed to packed audiences in the Edinburgh Mela, they are now getting ready to rock Calton Hill with a new collection

Bharatnatyam Dancers from Bhartiya Ashram, Dundee: Specialising in the ancient Indian Classical dance of Bharatnatyam, dancers from Dundee performing a series of specially choreographed pieces at Dusherra

Ram Leela:  There will be a short presentation in skit form, an opportunity to meet the Gods and demons behind the Ramayana story, traditionally in India this story would be enacted each night for a ten-day period. This year's Ram Leela has been designed in the Pantomime style with an innovative background music score incorporating Indian, Classical and Scottish Music

Dusherra Fireworks and Effigies lighting: Effigies burning is the most traditional aspect of the festival symbolising the victory of good over evil. SIAF is lucky to have inmates of the Saughton Prison, building the effigies of the demons Ravana, his brother Kumbhakarna and son Meghnad. Following the lighting of the effigies there will be a spectacular fireworks display which is historically the most popular portion of Dusherra with thousands of attendees being present on Calton Hill and around the city. Midnight Storm are the new fireworks provider, who are participating in the Dusherra festival for the first time and everyone is looking forward to a spectacular show.

There will be a mini-market of Indian goods and food, with catering being provided by the award winning Scottish Curry House of the year, Bananaleaf from Glasgow. The focus is on Indian street food, that creates a culinary immersion experience for festival goers. There will be a special stall of Indian sweets and several other stalls with henna painting, facepainting for kids and other small Indian themed handicrafts
Karthik Subramanya, President Scottish Indian Arts Forum said:- "Dusherra is now well entrenched in the cultural calendar of Edinburgh. We continue to grow and expand the event, while keeping it free for the community."
Jim McPhillimy, Managing Director, SSE Plc, owners of Scottish Hydro, said:-"SSE is committed to working actively in all the communities we serve and we are delighted to support the Scottish Indian Arts Forum's annual Dusherra celebrations in Edinburgh."