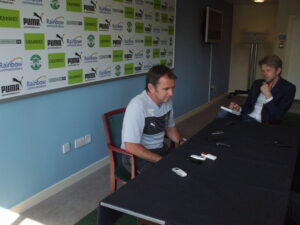 Despite bringing in seven new signings to Easter Road this summer, Hibs boss Pat Fenlon has spoken of his frustrations about missing out on potential targets due to the financial restrictions that he is working under at Easter Road.
Fenlon readily accepts that Hibs have to work within a budget, but he can't understand how other clubs at a similar level to Hibs are able to pay considerably more in wages.
Speaking candidly at the weekly press conference at Easter Road, Fenlon confirmed that he is still hoping to bring in new faces to supplement a squad which lost sixteen players since the end of last season.
He said: "I'm still working away. "There's a couple of targets at the moment that we are talking to, but it's difficult. Every supporter that I meet is saying why haven't we signed a forward, but we are trying but unfortunately there are clubs within our own country who are paying a lot more money that we are, which is amazing, but that's the way it is I suppose.
"It drives me mad when you see the situation where, what's happened this season and clubs can go and spend a fortune. It doesn't make sense.
"People who run other clubs have to worry about how they run it and we have to worry about how we run it, but we've been trying to sign four or five players over the course of the close season who would have strengthened the squad. We've got two or three of them but we'd like another two or three if we can, but financially it's difficult to get to where some other clubs are getting to.
When asked if he was thinking about a third division club in particular, Fenlon laughed and said "It might be."
"I think there are other clubs in the same level as us that are paying a bit more money and that's frustrating, but what can we do?
"The players will basically tell you that they are going somewhere else because they are getting more money, that's the normal gist of the conversation.
"I understand that players have got to move and get the best deals but you also want players who want to come and want to buy into what you are trying to do here."
Fenlon also revealed that it's not only in Scotland that he has lost out on targets.
"We've lost out on players to teams in League One and League Two in England and even that's frustrating but that's where the market is I suppose, at the moment for Scottish football, we've just got to not put up with it, but we've got other attributes and we've to make sure we can get players here to see the place and sell it to them that way and match what they are doing financially."
An added problem that he could have done without this weekend is the dugout ban inflicted after making a gesture towards Hearts fans who were taunting him during the Scottish Cup Final, although he accepts that he was in the wrong.
"The dugout ban will drive me mad on Sunday, although from a football point of view you can probably see a little bit more but it's getting that message across on occasions it's difficult.
"I want to be on the pitch playing and not managing to be honest, but I have to put up with it, it's my own fault so there's nothing I can do about it."
Hibs fans are hoping to get some revenge for the cup final humiliation in May, and also to end a run of eleven games without a win over their rivals.
Meanwhile the club has welcomed a new sponsor of the South Stand with the announcement of a new sponsorship deal with Rainbow Communications.
The agreement starts straight away, through to August 2013 and sees significant investment from one UK's leading independent telecoms companies.
Corporate and Commercial manager Russell Smith told Hibs TV: "We are delighted to welcome Rainbow Communications as a new partner of Hibernian Football Club. This is a fantastic new partnership agreement for the Club in what continues to be a challenging marketplace for all companies. Our new deal delivers vital income and another high profile partner for the Club.
"As a key rights holder within Scottish Football our partnership package will provide real value for Rainbow Communications.
"The agreement provides for an extensive range of marketing and networking platforms in Scotland and the UK and everyone at the Club is looking forward to helping to support the development of Rainbow Communications."
Eric Carson, Director of Rainbow Communications, who provide calls and lines, mobiles, broadband, VoIP, systems and more, said: "Earlier this year we celebrated our 15th anniversary and we are delighted to have secured a partnership with a high profile name such as Hibernian FC.
"We supply telecoms services to business customers throughout the UK and Ireland, and look forward to strengthening business relationships and providing the highest level of quality and service to Hibernian FC."
Former Hibs' favourite Kevin Harper who now works in the sales department for Rainbow Communications was at Easter Road to launch the deal.